Alan Biloski '82, Chemistry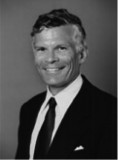 Alan Biloski's career is proof that graduate degrees don't have to result in a narrow range of career options—academia, or…? Currently senior directing manager of Brock Capital Group LLC, Biloski has spent much of his career using what he learned in the pursuit of his chemistry degrees and applying it in the world of finance.
A native of Syracuse, Biloski returned to upstate New York after getting his start in chemistry with a B.S. and M.S. at Yale. He finished off his chemistry Ph.D. at Cornell in four years and then headed to Columbia to pick up one last Ivy League degree, an MBA.
He then used his in-depth knowledge of chemistry to transition to high finance, focused on pharmaceuticals and other aspects of the health care industry. He formed the Healthcare Group at the late, great investment bank Wasserstein Perella and Co. There, he oversaw some record-setting deals in the healthcare field, such as the acquisition of Sterling Winthrop by SmithKline Beecham—the largest over-the-counter deal ever—and the sale of Sterling Winthrop North America to Bayer— the second-largest.
From 2001 to 2011, while acting as a financial advisor to several pharmaceutical companies, Biloski also returned to Ithaca to serve as a senior lecturer at the Johnson Graduate School of Business. While he was on the faculty, he was able to use his extensive background in business to give back to Cornell immeasurably. He advised the STEM faculty on possible commercial applications of their research. In the classroom, he led the Investment Banking Immersion and supported the practicums for the Research, Sales and Trading, and Managerial Finance Immersions.
His students were lucky to benefit from his teaching: during his tenure, over 250 of them managed to land positions with top Wall Street firms.