Avshalom Caspi, M.A. '84, Ph.D., '86, Human Development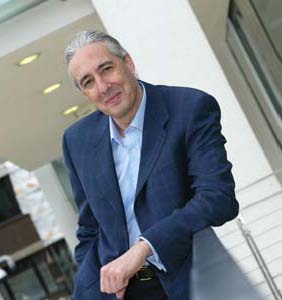 If you were telling the story of your life to someone else, it would probably feature plenty of seemingly random circumstances that altered the course of everything—a teacher who was particularly encouraging, for example, or a fraught relationship with an older sibling. Scientist Avshalom Caspi wants to hear all about it—but he's interested in the story that your genes are telling, too. Specifically, he's interested in how genetic foundations interact with life events to shape the complexity of a full human personality.
Caspi's research stands at the crossroads of several different scientific domains, as evidenced by his somewhat unwieldy job titles. He is currently the Edward M. Arnett Professor of Psychology and Neuroscience at Duke, as well as professor of personality development at the Social, Genetic and Developmental Psychiatry Research Centre at King's College London. That should give some sense of the range of fields that his work touches on. But at the center of it all is a basic question: what makes us the way we are?
Caspi knows all too well the impact of random events on a life. At a conference, he found himself seated next to a scientist who shared his passions. "I found the research she was presenting very interesting—and her as well," he says. "It was a combination of falling in love with both the study and the girl at the same time." Terrie Moffitt became his partner both in life and in the lab, and together they've advanced our understanding of the forces that shape personality development.
Their work has shown that the things that shape us—genes and life events, both—do more than make us chatty optimists or cynical introverts. They can also make us sick—or at least susceptible to certain mental and physical ailments.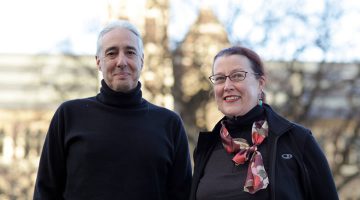 Caspi and Moffitt work with data sets from the Dunedin Study—Moffitt is its associate director. "I actually think he was more crazy about getting his hands on the Dunedin data set than in me," says Moffitt, remembering their first meeting.
She's kidding—but then again, it's a remarkable data set. The longitudinal study, one of the most comprehensive of its kind, follows over 1,000 people born in the New Zealand city of Dunedin between 1972 and 1973. The study offers an unparalleled opportunity to study the development of personality over a lifetime. Do babies that turn away from strangers grow up to be the wallflowers of the party? How much does good or bad parenting affect the way a person turns out?
The babies of 1972 are now all grown up—they were 38 at the beginning of the last data collection period in 2010. How are they doing?
"As we've followed them now into their 30s, we've learned that the children with poor impulse control also have a lot more mental health problems," says Caspi. "But what's been really striking is that they also have more physical problems. Through tracking biomarkers in these individuals, [it's clear] they're at a greater risk for heart disease."
The next check-in with the Dunedin cohort is slated for 2016, when they'll be 44. Who knows what new results may have cropped up in six years? Many of the subjects have children of their own now, who are being enrolled in a sub-study to see how traits carry across the generations.
In the meantime, Caspi has been working on research that charts the development of schizophrenia and the ways that depression and anxiety can be reflected in the genes by frayed chromosomal telomeres. He and Moffitt have been showered, separately and together, with grants and awards that show their dedication to their field. "The reason it's thrilling to me," Caspi says, "[is] it's the meeting point for two very different areas of research—neuroscience and epidemiology are coming together."