Barbara Baird '79, Chemistry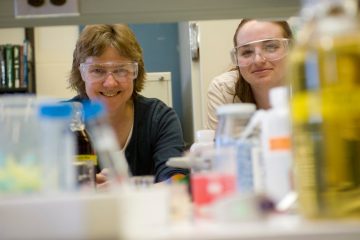 If you're unfortunate enough to suffer from asthma or severe allergies, you're familiar with the effects of immunoglobulin E. It's the antibody that creates the allergic reaction so many of us have come to know and loathe. While the antibody may be annoying for most, for Barbara Baird in particular, it is the key to learning more about all kinds of immune responses and, with any luck, to making life a little less itchy for some.
Immunoglobulin E binds to appointed receptors in the cells of the immune system. When enough bound immunoglobulin antibodies accumulate, a person's immune cells release a flood of histamines. Itchiness, irritation, and inflammation are what results, and while the histamines' effect is unpleasant to experience, it's useful to study.
In her lab at Cornell, Barbara Baird studies how this reaction takes place, hoping to gain a fuller understanding of all kinds of cellular communication. Drawing on her chemistry background, her work uses biochemical, biophysical, and nanotechnological methods to investigate how the receptors mediate transmembrane signals in immune responses. One day, Baird said, scientists might use the insights gained from this approach to develop new drug therapies to treat allergies, high cholesterol and perhaps even viral infections.
Baird's work has earned her recognition in her field—she has been named a fellow of both the American Academy of Arts and Sciences and the American Association for the Advancement of Science, as well as serves on the Council of the NIH National Institute of Allergy and Infectious Diseases. She has also served Cornell as a member of the board of trustees and a former chair of the chemistry department. While maintaining these positions, she has continued to research and publish extensively, as well as to increase the number of female faculty by 100 percent during her time at the helm of the department.