Bertha Stoneman, Ph.D. 1894, Botany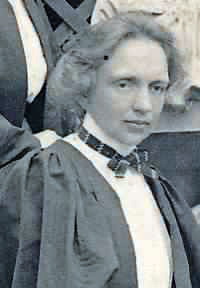 Bertha Stoneman wrote in the introduction to her textbook, Plants and Their Ways in South Africa, "Every living thing has something to tell us if our eyes have been trained to see and we have learned to think about what we see." First published in 1906, this was a foundational botany text for generations of South African high school students. Stoneman graduated from Cornell with her Doctor of Science degree in 1894, just a quarter-century after women were first admitted to the University. She devoted her life to learning how to think about what she saw, but for a woman of her time, it wasn't always easy.
Stoneman grew up near Jamestown, in western New York. The Stoneman family had been in the area for over a century, and had already achieved prominence in women's education—Bertha's aunt, Kate Stoneman, was the first woman admitted to the New York State Bar.
After graduating from Cornell, Stoneman found out that opportunities for highly-educated women were few and far between. Perhaps it was frustration with the limited options open to her at home, or a hopeful sense of adventure—but whatever her motivations, when Stoneman was offered a position as the head of the botany department of Huguenot College in Wellington, South Africa, she took it.
She spent the rest of her career at Huguenot, and the rest of her life in South Africa. She started an herbarium at the school, and had soon amassed an impressive number of specimens. She taught zoology, psychology and logic courses in addition to botany. In 1921, she became president of the college. Fiercely committed to the cause of women's education, she founded the South African Association of University Women and served as its first president. She provided several scholarships to allow girls from poor families to attend Huguenot. One of her students, on her encouragement, went on to become the first South African undergraduate to attend Cornell.
In addition to her teaching and research, Stoneman was a talented writer. The New York Times reports that she was selected to author the class poem when she graduated in 1894. She also published volumes of her own verse as well as English translations of Afrikaans poems. Over the course of her long career, she only took four trips home to the United States.
Her literary ability is on show in her famous textbook. "When lavish Nature sows her seeds," she wrote, "some lay hold of the rocks and change them into soil, so that one dainty pink-and-white Crassula which grows on our hillsides rejoices in the name Saxifraga, the rock breaker." It's hard to imagine that when she wrote those lines, she didn't have a moment of reflection on her own life, rooted in a land so different from her native soil. Stoneman never married, and after her death in 1943, in accordance with her wishes, her ashes were returned to her family plot in Chautauqua County.