Fred Koetter M.Arch. '66, Architecture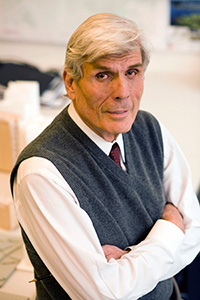 Fred Koetter didn't intend to spend so much time in Ithaca. As an architect, his interest is in urban spaces, and Ithaca does not exactly qualify. But he was on his way from Seattle to Europe after graduating from the University of Oregon, and a friend had an open couch in Ithaca.
Koetter may not have made it to Europe, but he found a productive scholarly home in Ithaca. At Cornell, Koetter met the British urban design theorist Colin Rowe. Together, in 1979, they co-wrote Collage City, an influential critique of Modernist architecture.
In their book, Koetter and Rowe examine how urban planning changed with modernist theory, which tended to see buildings as existing in a vacuum, in opposition to traditional design, which was more interested in how buildings interacted with open space. They blamed many of the problems of contemporary cities on this shift.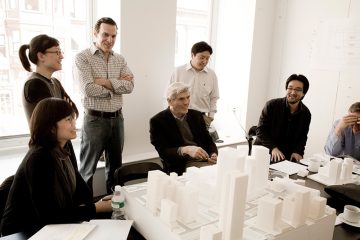 After a stint on the faculty at Cornell, Koetter spent a few years at Yale, and then taught at Harvard from 1978 to 1992, while establishing the architecture firm Koetter, Kim, and Associates with his partner, Susie Kim. He then returned to New Haven, to serve as the dean of the architecture school.
While Koetter may have missed out on his post-undergraduate trip to Europe, he can take solace in the fact that Koetter/Kim buildings now grace locales all over the world, from Kazakhstan to Korea and Lebanon to London. Their designs were instrumental in the transformation of London's canary wharf district from port district to financial center. They have been recognized with the Harleston Parker Award for the "most beautiful building in Boston," American Institute of Architects' National Honor Awards, and Progressive Architecture Design Awards.
They even have a few buildings closer to home: in addition to designing buildings for Harvard and Princeton, they are also responsible for the New Humanities Building and the Physical Sciences Building on the Cornell campus.