George Atkinson, B.Phil 1885, Botany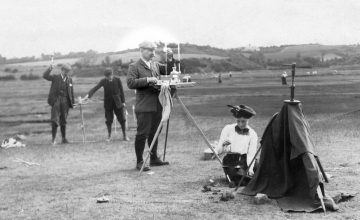 George Atkinson, a mycologist who standardized how fungi are organized at major collections around the world, entered Cornell with what we would today call a non-traditional background. He had taken a smattering of coursework at Olivet College in his native Michigan (still very much a frontier state when he was born there in 1854), and entered Cornell at the age of 30 as a candidate for a B.Phil., a degree something like a less-specialized master's. After graduation, he became professor of zoology, specializing in spiders, at the University of North Carolina at Chapel Hill before returning to Cornell as a botanist.
What had Atkinson been doing with his adulthood before he turned to scholarship? Accounts of those who knew him suggest that he was something of a closed book, but one day, as he was driving his Cornell class to a mushroom-gathering field trip near Cascadilla Gorge, one of the students was compelled to remark on his driving (of the horse-and-carriage variety). Apparently, it was an impressive display of both speed and reckless disregard for human life.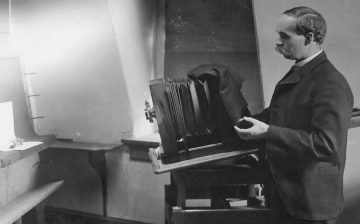 As related decades later by Charles Thom, one of his graduate students, the mild-mannered academic then revealed that he had honed his skills as a stagecoach driver making runs through the Black Hills of South Dakota, where speed was prized—and not just for efficiency's sake, but because it was necessary to outrun the bullets of highway robbers! Atkinson had left home at just 13, and spent many years traveling the country looking for occasional work—but eventually, he said, "I realized that if I were ever to be anything but a crude laborer, I must have education."
Atkinson put his education to good use. Once he made the switch from zoology to botany, he focused mainly on mushrooms and other cryptogams. He was especially interested in taxonomy—he was first to describe almost 300 fungal taxa. He tirelessly collected specimens in and around Ithaca, but also traveled to Europe to study collections there, and to document similarities between New and Old World species.
He was recognized for his contributions to the field when he was elected president of the American Botanical Society in 1907. Some of his award-winning photographs of mushrooms can be seen at Cornell's Plant Pathology site. His legacy also lives on in the two dozen species of mushroom that are named for him, as well as his specimen collection, which is currently in the process of being digitized by the Cornell Plant Pathology Herbarium. This collection is searchable by anyone, anywhere—a development that would surely please Professor Atkinson.