Henry Turner Eddy 1872, Mathematics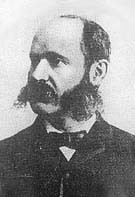 Sometimes Cornell can seem like it's in the middle of nowhere. But if you think Ithaca is remote now, try to imagine how it must have seemed in 1869. When Henry Turner Eddy first arrived, the school was only four years old and there were only two hundred Ph. D. students in the entire country.
While a lot has changed since then, those who have been accused of being career students might recognize something of themselves in Eddy's C.V. He eventually accumulated a B.A., an M.A., an L.L.D., a C.E., and Cornell's very first Ph.D. And he wasn't just a serious student, he was also a polymath: his degrees were achieved in fields as diverse as law, engineering, and mathematics, and conferred by Yale, Cornell, and Center College (in Danville, Kentucky). He later went abroad to conduct research in Berlin and Paris, and returned to the U.S. to assume the presidency of first the University of Cincinnati, and later, Rose Polytechnic Institute in Terre Haute, Indiana.
Maybe the most impressive thing about Eddy's time at Cornell is that he was a professor of mathematics and engineering while receiving his degrees in those subjects himself. He was only 25 at the time. His engineering book on graphical methods was translated into German and called by historian Florian Cajori, "the first original work on this subject by an American writer."