John Lossing Buck, M.A. '26, Ph.D. '33, Agronomy/Agricultural Economics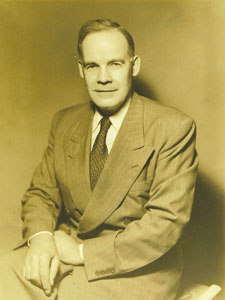 His first wife, the novelist Pearl S. Buck, may be the one who made the family name famous—her novels about everyday people in a changing China have been devoured by generations of American readers. But while his wife used her art to advocate for the land she loved, John Lossing Buck was rolling up his sleeves and putting his hands into the land. As an agronomist and agricultural economist devoted to making life easier for the farmers of rural China, he spent his career studying how to maximize agricultural output.
While it was his work in China that would come to define Buck's legacy, the rolling green fields of Dutchess County, NY, were where his work first began. He first came to Ithaca as an undergraduate, receiving his B.S. in agronomy in 1914.
After graduation, he accepted a position as an agricultural missionary with the American Presbyterian Church and traveled to Anhui Province to research how farming was conducted in rural China and how it could be improved by Western advancements. At the time, most Chinese farmers were isolated from the West and its ideas, and were still practicing farming according to centuries-old methods.
Buck arrived at his post with optimism, writing in 1915, "prospects for my line of work here look exceptionally well in many aspects. It is an agricultural community here entirely." But the entrenched cultural differences between Buck and the community of local farmers made for slower progress than he might have hoped. But it was in rural China that Buck met his first wife, Pearl Sydenstricker, the daughter of Presbyterian missionaries, who had been raised in China and was fluent in Chinese.
Perhaps because of his frustration with his work in Anhui Province, when Buck was offered a post at the University of Nanking, he took it. He and Pearl moved to the city, and within two years Buck was the head of the department of agricultural economics at the university. He took a sabbatical year in 1925 to return to Cornell and earn his master's degree. Throughout the early 1920s, Buck had been conducting large-scale agricultural research, assigning his students to collect data from their own local farms. He submitted the results of this fieldwork as his master's thesis.
When he returned to China after his degree, he scaled up his research efforts. By mobilizing a veritable army of students, Buck was able to collect data from nearly forty thousand families on over twenty thousand farms throughout China. While his wife's novels offered a view of life in rural China through the lens of individual lives, Buck mapped much of the same territory quantitatively, compiling data on everything from domestic economics to land utilization. He published the results of this comprehensive research in several volumes throughout the 1930s, one of which he submitted as his dissertation for his 1933 Ph.D. at Cornell. He and Pearl S. Buck divorced in 1935 and he returned to China, where he married Chang Lomay in 1941.
In his later years, Buck was recognized for his unparalleled expertise on rural China by his appointments to several policy positions, including U.S. treasury representative to China, chief of the land and water use branch of the food and agricultural organization of the United Nations, and director for agricultural economics for the council on economics and cultural affairs. He continued to publish prolifically until his death in 1975.
Despite his immersion in academics, Buck never forgot the connection to the land that he had forged in his boyhood, which set him on his path to become the world's top expert in his field. "No agricultural subject should be taught in the classroom alone," he wrote. "To achieve the best results and fulfill the real purpose, students of agriculture must do practice work in the school garden, or on the farm."