Katherine Bergeron, Ph.D. '89, Music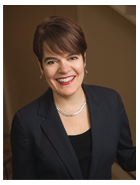 Connecticut College shares many of its blessings with its fellow NESCAC schools: a lovely, leafy campus, small class sizes, and a commitment to the value of a liberal arts education. But it does have one thing that definitely sets it apart: a president classically trained in singing Gregorian chants, blues, and traditional Indonesian music.
Katherine Bergeron has only been in office since January, but she came highly recommended. "She has a tremendous ability to connect ideas and convert them into action," says Pamela D. Zilly, chair of the search committee that selected her. "She is a champion of the tradition of education in the liberal arts and sciences."
Indeed, Bergeron recollects her own undergraduate experience at Wesleyan when she considers the value of a liberal arts education. "It's more meaningful than I can say to be returning to a school wholly dedicated to the kind of eye-opening, ear-opening, mind-bending education that I myself experienced," she said in her first address as president-elect.
That education prepared Bergeron first for a career in academia, where she studied various musical traditions, focusing predominantly on nineteenth-century French vocal song. She first tried her hand at administration at Brown, where she rose from music professor to department chair to chief academic officer for undergraduate education. In this last position, she completed a major overhaul of Brown's curriculum and instituted measures to increase recruitment of minority students in the sciences. By the time she left Brown for Connecticut College, she was dean of the college.
Leaving Brown must have been bittersweet. In addition to her successes, Bergeron's husband, Joseph Butch Rovan, remains on the music faculty there. Her move to Connecticut, however, in addition to the prestige of the position, must grant her a satisfying sense of completion: Patricia Harper, an adjunct music professor on the faculty there since 1975, once gave voice lessons to a local teenager named Katherine Bergeron.