Lee Teng-Hui '68, Agricultural Economics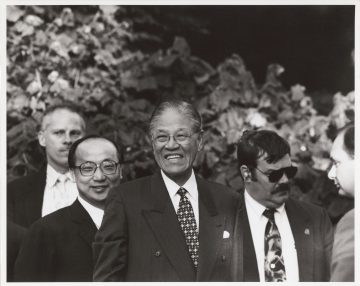 You don't know where the future will take you—it's a cliché of graduation speeches and motivational self-help books, but, like many sentiments of its kind, it's cliché because it's true. For Lee Teng-Hui, an outstanding graduate student at Cornell, whose studies in agricultural economics culminated in the publication of a well-received thesis, his degree might have seemed like an auspicious beginning to a sterling career in academia. Instead, it led him to the presidency of his native Taiwan.
For much of his young life and career, Lee showed more interest in academics than politics. Brought up in Japanese-occupied Taiwan, he was the top high school scholar. He was granted a scholarship to study at Kyoto Imperial University. When World War II broke out, he served as an officer in the Imperial Army. After the war, he finished his studies in Kyoto and returned to Taiwan.
Lee came to the United States for the first time in the early 1950s, to study agricultural economics at Iowa State University. With a master's degree in hand, he returned home to work as an economist and professor until he again departed for the U.S., this time to pursue his Ph.D. at Cornell. There, he was again recognized as a gifted student, and his dissertation, Intersectoral Capital Flows in the Economic Development of Taiwan, 1895 – 1960, was named the best doctoral thesis of the year by the American Association of Agricultural Economics. His achievements caught the eye of Taiwan's president at the time, Chiang Ching-kuo. In 1971, he appointed Lee to his cabinet, as agricultural minister.
From there, Lee's focus on agricultural seems to have taken a backseat to his rising political profile. He was appointed mayor of Taipei in 1978, governor of Taiwan Province in 1981, and vice president in 1984. And when President Chiang passed away in 1988, the former agricultural economist found himself in the running for president of Taiwan at the age of 78. When Taiwan held its first direct presidential election in 1996, the people confirmed his popularity, giving him 54 percent of the vote. Because of term limits that Lee himself enacted, his presidency came to an end in 2000.
Lee's presidency spanned a turbulent twelve years, as Taiwan struggled to find recognition from countries with political and economic ties to the People's Republic of China. Lee supported policies of Taiwanization, which emphasized a Taiwanese identity separate from the forces of Chinese culture. His support of these measures made him somewhat controversial on the world stage, but ultimately his efforts made Taiwan's sovereignty a visible issue.
Amid political controversy, Lee returned to Cornell in 1995 to deliver a speech at a reunion of graduate school alumni. Despite the innocuous occasion, the visit was the first of a Taiwanese leader to the U.S. since 1979. But Lee largely used his moment to reflect on his time in Ithaca. "The long exhausting evening in the libraries, the soothing and reflective hours at church, the hurried shuttling between classrooms, the evening strolls," he remembered. "So many memories of the past have come to mind, filling my heart with joy and gratitude."