Parker Borg '65, Public Administration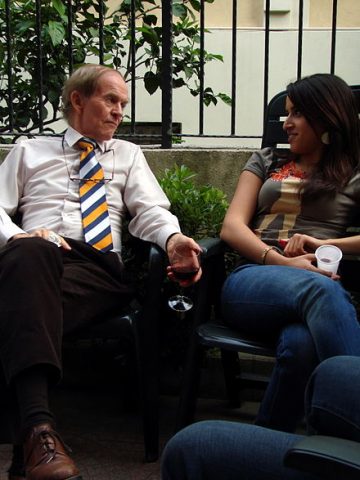 Parker Borg's parents were not happy to hear he wanted to sign-on as part of the first crop of Peace Corps volunteers after he graduated from Dartmouth College in 1961. "My parents couldn't believe I finished college, came home, sat around, did nothing and talked about nothing but the fact that I was going to be joining the Peace Corps," Borg remembers. Having paid for college, his parents were more interested in him finding a lucrative career. The Peace Corps wasn't the well-established program that it is today, with generations of alumni to attest to its value. But Borg knew that, risky as it sounded, volunteering for the Peace Corp was the right move for him.
But even the Peace Corps wasn't necessarily thrilled by Borg's interest either—at least not at first. "The Peace Corps people said 'No, we don't want people from Ivy League institutions. We want people who've gone to ag school and technical schools." Those graduates, Borg said, seemed like better candidates for success at the Corps' projects. But he eventually talked his way onto the Philippines delegation, as the assignments there consisted of teaching English rather than building wells for waterless villages.
Borg fell in love with Southeast Asia, and when he returned to the States he entered Cornell with the intention of continuing to study it—even if it had to be on the sly. His parents at that point still hadn't given up on the lucrative career. Borg applied to business school at Cornell, knowing that he could still take all the Southeast Asia courses while pursuing a business degree. After graduating, and being "somewhat appalled by what banks did," Borg decided once and for all that a career in finance was not for him and he entered the Foreign Service instead.
He had only intended to stay for one tour, but then the war in Vietnam intervened and, as a Southeast Asia specialist, he was sent to the front lines (not before getting classroom training in the language, which has six different pitches, and proved quite difficult for Borg, who is tone deaf).
Though it wasn't his intention to stay in the Foreign Service for more than a couple of years, Borg ended up becoming a career diplomat, serving as ambassador to Mali and, later, Iceland.