Peter Kareiva '81, Ecology and Evolutionary Biology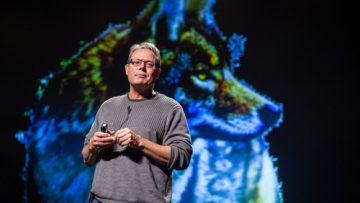 When many people think about the environmental movement, they have vague ideas that it might be peopled by unshaven, flip-flop-wearing tree-huggers or gloom-and-doom scolds proclaiming that every light left on kills three polar bears.
This is not Peter Kareiva.
A talented researcher, Kareiva made the move to the policy world when he accepted the position of chief scientist at the Nature Conservancy in 2002. Since then, he's set himself the task of trying to change conservationists' ideas about what they do and how they work with the public.
To Kareiva, the idea that conservationists' goals should be the preservation of pristine habitats, particularly those of great biodiversity, is outmoded and impractical. Instead, he believes the conservation movement needs to accept a "vision of a planet in which nature … exists amid a wide variety of modern, human landscapes." Further, Kareiva says, "Conservationists will have to jettison their idealized notions of nature, parks and wilderness—ideas that have never been supported by good conservation science—and forge a more optimistic, human-friendly vision."
According to this model of conservation, humans are an inextricable part of the ecosystem of every part of the planet, and their activities have irremediably altered the environment—and this has been going on long before the modern era.
While they may protect some species, conservation efforts that focus on setting aside land have had a devastating cost for some people in developing nations. "Estimates vary from five million people displaced over the last century by conservation to tens of millions," Kareiva points out.
In addition to being ethically problematic, preservation efforts that neglect the human side of the equation may actually be counterproductive. Citing new research, Kareiva claims, "it is [hunting], not deforestation, that places orangutans at the greatest peril. In order to save the orangutan, conservationists will also have to address the problem of food and income deprivation in Indonesia." A multi-faceted, human-oriented approach requires a new understanding of what conservation efforts should look like.
In Kareiva's vision, programs like those that spend millions trying to breed a few remaining members of a species on track for extinction are a quixotic tangent, and not a beneficial use of limited funds. Rather, he advocates for efforts to manage ecosystems responsibly, taking into consideration that people are part of the environment, too.
Not surprisingly, Kareiva's ideas have been met with some skepticism—sometimes with outright hostility by many factions of the current environmentalist movement. "There was and there still is, I'd say, an antibody resistance to some of his ideas," says Steve McCormick, former president of the Nature Conservancy, who recruited Kareiva.
But Kareiva knows the science is on his side. And a dramatic shift in thinking may be what conservation needs to stay relevant. "If people don't believe conservation is in their own best interests," he says, "then it will never be a societal priority."