Rhonda Cornum '80, Biochemistry and Nutrition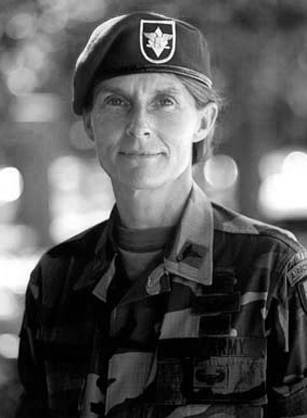 Rhonda Cornum remembers what she was thinking as her Black Hawk helicopter, hit by Iraqi fire during the first Gulf War, spiraled toward the desert below it: "I have had a great life," she says. "I really got to do more stuff than most people do, so I should not complain."
She's right—Cornum has packed more living into her life than most of us are able to. After growing up in western New York—she characterizes herself as a tomboy—Cornum headed to Cornell. She married, had a child, lived in a log cabin, and raised chickens. "I wasn't exactly establishment," she says of that time. After completing her B.A. and a Ph.D. in biochemistry and nutrition, though, her life took a hard right turn.
After presenting a paper at a conference, she was offered a position as a medical researcher in the Army. She hadn't considered the military, but took to it readily. "In three months, I became an Army person."
She spent the next decade earning her medical degree, becoming a trained flight surgeon, and advancing to the rank of major. In 1990, her unit was called up. They were going to Saudi Arabia as part of Operation Desert Shield. And that's how Cornum ended up in that Black Hawk: on February 25, 1992, the helicopter was on a mission to rescue a pilot who had crashed behind enemy lines. Cornum was on board to provide medical care to the pilot, once he was recovered—that had been the plan, anyway.
Cornum and two other soldiers aboard the eight-person Black Hawk survived the crash, though not without serious injury—Cornum broke both arms, tore a knee ligament, and was shot in the shoulder. All of this paled in comparison to what happened next: the Black Hawk survivors, along with the pilot they had tried to rescue, were captured by Iraqi forces.
Cornum and her fellow captives were questioned aggressively. Cornum also reported being molested by an Iraqi soldier, and some of her fellow captives were tortured. However, she did eventually receive medical care for the injuries she had sustained in the crash. After eight days, Cornum and the other captives were released, and she returned to the United States.
As one of only two women POWs in the first Gulf War, Cornum found herself a public face of women in the military. She advocated for expanded combat roles for women, and was awarded a Purple Heart, a Distinguished Flying Cross, and a Bronze Star. She retired in 2012, having earned the rank of brigadier general.