S. Georgia Nugent, Ph.D. '79, Classics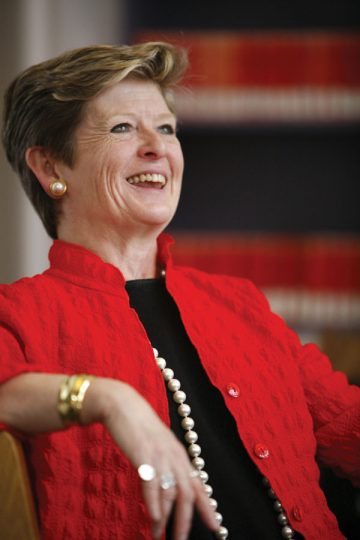 If you've recently graduated with a liberal arts degree, particularly in an especially arcane field, you're likely exhausted of explaining to well-intentioned relatives what you intend to do with that. If you're looking for another example of the triumph of a liberal arts education, add S. Georgia Nugent to your list. She's spent her career championing the value of a liberal arts education, and she has practiced what she preaches. Her own CV should reassure any anxious parent (or new Ph.D.).
Nugent received her B.A. from Princeton and, after earning her Ph.D. in classics at Cornell, taught at Swarthmore and Brown. Her areas of academic interest include epic verse and Greek tragedy. "These texts have, to my mind, almost unparalleled power to anchor us in the world and confront us with both our wrenching limitations and our soaring possibilities as human beings," she says.
Despite Nugent's talents as a teacher and academic (she has published numerous articles and a book on allegory, and won the Wriston Award for Excellence in Teaching at Brown), when she returned to Princeton, it was in an administrative role. There, she served as associate provost and assistant to the president. In 2001 she became the dean of the McGraw Center, promoting new initiatives to improve the quality of teaching and learning throughout the university.
Her work at Princeton earned her a new position in 2003, when she became the President of Kenyon College in Gambier, Ohio. Here, she focused on balancing the budget while expanding family-friendly policies for employees and strengthening ties between the college and the local community. She has also become an advocate on the national level for the utility of a liberal arts education in a changing world, writing editorials for The Huffington Post and Slate arguing that a rigorous liberal arts education prepares graduates to think critically—a skill that can be applied in any field, regardless of changing technologies.
In 2013, Nugent stepped down from her role at Kenyon in order to turn her attention more fully to promotion of the liberal arts. She joined the Council of Independent Colleges, an association of more than six-hundred independent colleges and more than seventy higher education organizations, in the role of senior fellow, leading a campaign to advocate for the liberal arts.
"I am passionate about the value of the liberal arts, and I believe it is critical that we find more effective ways of articulating that value to the public," Nugent says. "Our public discourse about higher education shows little understanding of this value. I look forward to applying my experience as a college president to the national conversation." And if Nugent's own success as an academic, teacher, and administrator is anything to go by, even the ancient Greeks have a thing or two to teach students preparing for a career in the twenty-first century.