Toni Morrison, M.A. '55, English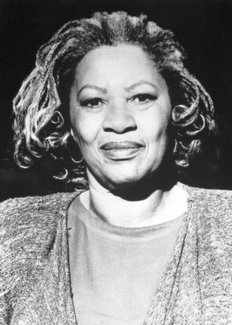 Toni Morrison's coworkers at Random House knew nothing about her extracurricular writing activities. Then, in 1973, she published The Bluest Eye. She was 39. "They read the review in The New York Times," she says. "It got a really horrible review in The New York Times Book Review on Sunday, and then got a very good daily review."
One out of two isn't bad, and it's safe to say that Morrison has had an even better hit rate since then. Toni Morrison is one of, if not the, most celebrated American writers alive today, with a Presidential Medal of Freedom, a Pulitzer, a Nobel—even a Grammy!—under her belt.
She began her writing career with a workshop as an undergrad at Howard University. She brought in a story about a young black girl who prayed for blue eyes. The story came out of a conversation with a friend in her childhood. "I wanted to know how she got to that place," Morrison says, wondering how the girl could have internalized society's racist beauty standards at such a young age. The story became Morrison's first novel, but not for another twenty years. In the meantime, she earned her master's degree at Cornell, writing her senior thesis on "Virginia Woolf's and William Faulkner's Treatment of the Alienated." This led to a career in teaching and publishing, though the urge to write was always there.
But, says Morrison, it took her a while to feel like she could really call herself a writer. "It was by the time I was writing Song of Solomon, the third book, that I began to think that this was the central part of my life," she says. "At the time I certainly didn't know any other women writers who were successful; it looked very much like a male preserve … even though I knew that writing was central to my life, that it was where my mind was, where I was most delighted and most challenged, I couldn't say it."
Morrison was born Chloe Ardelia Wofford. "Toni" comes from Anthony, the saint's name she adopted as a child when she joined the Catholic Church. Being able to separate her "writer" identity from her personal identity proved useful when she became a literary—even pop-cultural—superstar after publishing Beloved, her most critically acclaimed novel. "My name is Chloe. And the rest is … that other person. Who is able to feel, or pretends to feel, or maybe really feels, or at least reacts to celebrityhood."
While she is regarded as a pioneering African-American female writer, and is committed to writing about the experiences of black Americans, Morrison feels that her identity is more complicated than that. "It just so happens that that space for me is African-American; it could be Catholic, it could be Midwestern. I'm those things too, and they are all important." Whatever else she may be, Morrison is undoubtedly one of the best writers of her generation and, at the age of 83, still writing. With any luck, the American readership will be privileged with volumes of her heartbreaking, magnificent works for years to come.