Walter Muenscher, Ph.D. '21, Botany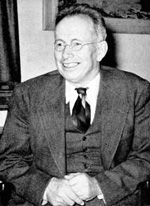 English professors' houses are full of books, and visual arts professors' homes tend to be tastefully decorated. Similarly, Walter Muenscher, a botanist at Cornell, liked to fill his living space with the objects of his study. Unfortunately for his neighborhood beautification committee, Muenscher's work had earned him the reverential moniker, "Wizard of Weeds".
Even if the neighbors did grouse, Muenscher probably didn't let it get to him. Despite his appearance as a mild-mannered botany professor, he was tough: he had survived the Spanish flu epidemic as well as a deadly landslide. Born in Germany, he had come to the United States as a young child. After moving around farmsteads in the West, the family eventually settled in Washington.
After receiving his undergraduate degree at Washington State and his master's degree at the University of Nebraska, Muenscher kept going eastward, to Ithaca. After finishing his doctoral work, he joined the faculty at Cornell in 1923. In addition to "Weeds," the textbook that earned him his nickname, he also wrote "Keys to Woody Plants and Poisonous Plants of the United States".
In addition to his research, Muenscher was also an advocate for the preservation of the habitats of the plants he so loved. He spent a great deal of time researching the flora in Bergen Swamp, near Rochester, and was a strong voice for the wetlands' conservation.
Despite having put down roots in upstate New York, Muenscher never forgot the woods where he played as a boy and first learned to love the natural world. In 1941, decades after he'd left Washington, he published "The Flora of Whatcom County, State of Washington.