Working Across Languages and Genres: Strategies for Magnifying the Impact of Scholarship – A Workshop
April 29, 2022 @ 9:00 am

-

10:30 am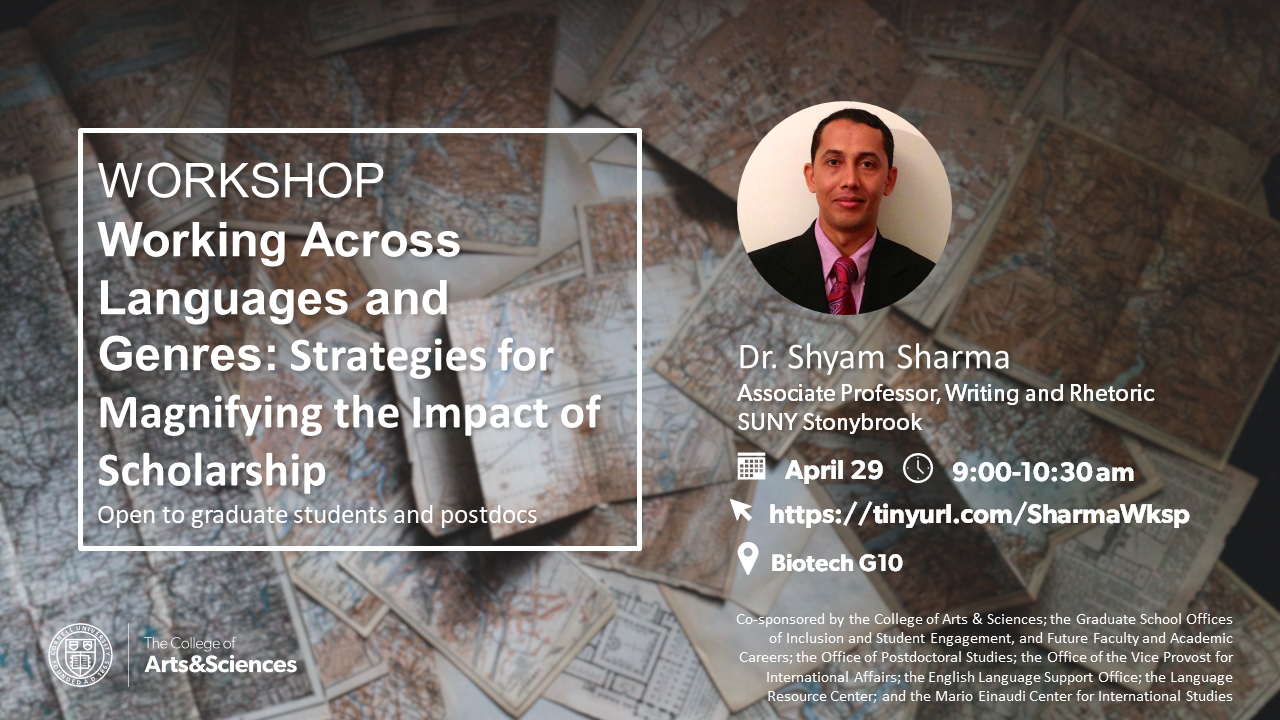 Even in culturally and linguistically diverse societies, myths and ideologies narrow down the number of languages and genres of knowledge sharing often to just one. But, as society and technology both advance, beyond the journal article, and beyond English-only venues lie a vast world of knowledge that circulates in many languages and many genres. Graduate students, whatever number of languages they speak, have access to that vast network, which needs and rewards their knowledge, offering them the opportunity to grow while giving back to society/world. How can you harness the power of all your languages? How can you overcome the barriers of perceptions and policies? A scholar who researches and teaches research and writing across disciplines and countries, Dr. Shyam Sharma will engage graduate students in hands-on activities and share practical strategies, helping graduate students explore how they can harness the full power of different languages, genres, and mediums of communication. This workshop will help them develop diverse ways to multiply the impact of the scholarship they produce.
To register, please complete this form. This workshop is intended for graduate students and postdoctoral scholars in all fields.
About the speaker
Dr. Shyam Sharma is Associate Professor and Graduate Program Director in the Program in Writing and Rhetoric at the State University of New York in Stony Brook. His scholarship and teaching focus on issues of language and language policy/politics, cross-cultural rhetoric, international students and education, and writing in the disciplines. His works have appeared in a variety of venues, including College Composition and Communication, JAC, Across the Disciplines, Composition Studies, NCTE, Series in Writing and Rhetoric, Hybrid Pedagogy, Kairos, and Professional and Academic English (IELTS SIG). His last book (Routledge, 2018), based on data gathered by visiting 20 US universities plus data collected distantly from 15 more, offers theoretical and practical pathways for the advancement of Writing Studies at the graduate level, using writing support for international graduate students as a major intervention in graduate education. His next book analyzes the foundations of international education in the US in the decades after the Second World War, showing fault lines and potential futures by analyzing trajectories in the past few decades.
Co-sponsored by the College of Arts & Sciences; the Graduate School Offices of Inclusion and Student Engagement, and Future Faculty and Academic Careers; the Office of Postdoctoral Studies; the Office of the Vice Provost for International Affairs; the English Language Support Office; the Language Resource Center; and the South Asia Program.
Related Events