Admitted Students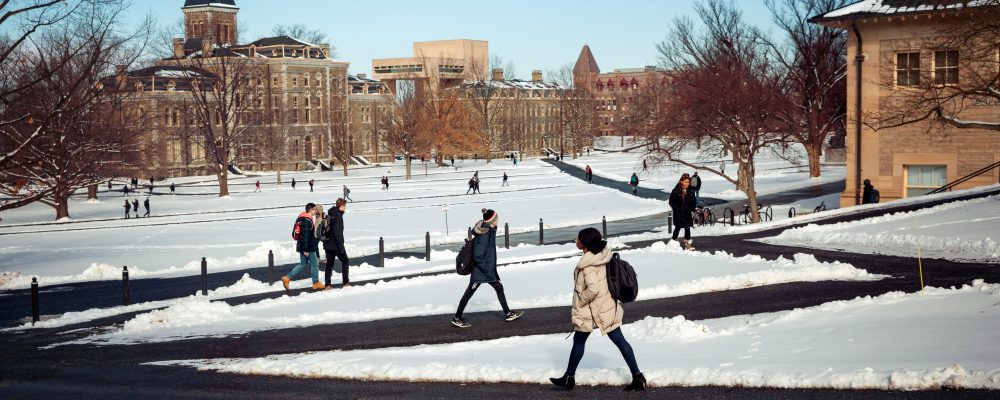 Welcome to Cornell!
Congratulations on your acceptance into Cornell…and welcome! We are excited that you will begin your graduate program soon and look forward to working with you.
The goal of Orientation at Cornell is simple: We want to warmly welcome you to campus and help your transition to graduate school by introducing you to the values, expectations, and resources of an inclusive Cornell community that will be your home for the duration of your degree program. You will also learn about graduate study at Cornell along with expectations and tips for success as a new graduate student. We will introduce you to valuable resources and services to help you throughout your time at Cornell.
Orientation does not replace your field's orientation program; it supplements it. We hope it will help you experience the benefits of a larger, interdisciplinary community. Please consult your field's website for field-, college-, and program-specific orientation programs. Please also make sure to keep track of your new student to do list.
You will receive an email with instructions for Graduate School Orientation participation later this fall.
Spring 2023 Orientation Highlights:
December 15, 2022 – Orientation Hub Opens
We use Cornell's learning management system, Canvas, to house modules including information, resources, tips, and links to register for our formal program and the Graduate School Primer workshops. The Orientation Hub link will be sent to incoming Graduate School students on December 15. Students who did not receive the link should email gradschoolnews@cornell.edu.
Please note: This information and related orientation events are designed for students in programs administered by the Cornell Graduate School, which includes all Ph.D., M.S., M.A., D.M.A., J.S.D., and M.F.A. degree programs. This also includes M.F.S., M.H.A., M.I.L.R., M.L.A., M.P.A., M.P.H. degree programs, as well as the M.P.S. degrees in animal science, biological and environmental engineering, integrative plant science, global development, landscape architecture, natural resources and the environment, applied economics and management, fiber science and apparel design, human resources, industrial and labor relations, information science, real estate, and veterinary medical sciences.
The Graduate School does not oversee the following programs, so please check with your program director for information about your requirements, expectations, and orientation events: M.Arch, M.Eng., M.M.H., MP.S. in management, M.S.L.S., D.V.M., J.D., L.L.M., M.B.A., M.S. and M.Eng. degrees at Cornell Tech in New York City, and Ph.D., M.S., and M.B.A. degrees at Weill Cornell Medicine in New York City.
January 20, 2023 – Dean's Welcome Lunch
11:30 a.m. – 1:30 p.m. (ET), G10 Biotechnology Building
The formal program features Graduate School Dean and Vice Provost for Graduate Education Kathryn J. Boor. We will have a representative from our GPSA (Graduate and Professional Student Assembly) and a panel of current graduate students to talk candidly about their graduate student experience.
January 10 – 19, 2023 -Graduate School Primer: Navigating Academia Workshop Series (via Zoom)
This workshop series is designed exclusively for first-year graduate and professional students and covers topics like understanding doctoral funding, mentoring, and much more. Sessions are all online via Zoom. View the Graduate School Primer: Navigating Academia Workshop Series page for more information and registration links.
---
For Our International Student Community:
Spring 2023 Orientation for International Graduate and Professional Students
Tuesday, January 10, 2023, 8:00 a.m. to 10:00 a.m. (ET), Zoom
Sunday, January 22, 2023, 1:00 p.m. to 4:00 p.m. (ET), B25 Warren Hall
The Office of Global Learning's International Services team is here to help you settle in and find out what you need to know to succeed at Cornell. For international undergraduate, graduate, and professional students starting at Cornell in Spring of 2023, we offer a robust orientation which includes virtual and in-person programming. We look forward to meeting you!
The Spring 2023 International Orientation for Undergraduate, Graduate and Professional Students is hosted by the Office of Global Learning, gives you an early start on your Cornell experience by introducing you to important resources for international students and helping you connect with your classmates from around the world. Register to attend one of the sessions by Sunday, January 8 at 11:59 p.m. (ET).
---
Stay Informed
Graduate School Announcements posts Monday nights (ET)
All new students will begin receiving the weekly Graduate School Announcements in mid-December.
---
Find Your Community
Knowing where to look can give you a head start
With 23,600 students, Cornell is large. One tip for incoming students is to establish your networks early by getting out and meeting new people. The programs, organizations, and resources below are designed to bring people together.
---
If you have any questions, or need any support regarding accommodations, please contact Janna Lamey, senior assistant dean for graduate student life (607-255-5184 or janna.lamey@cornell.edu).