Admitted Students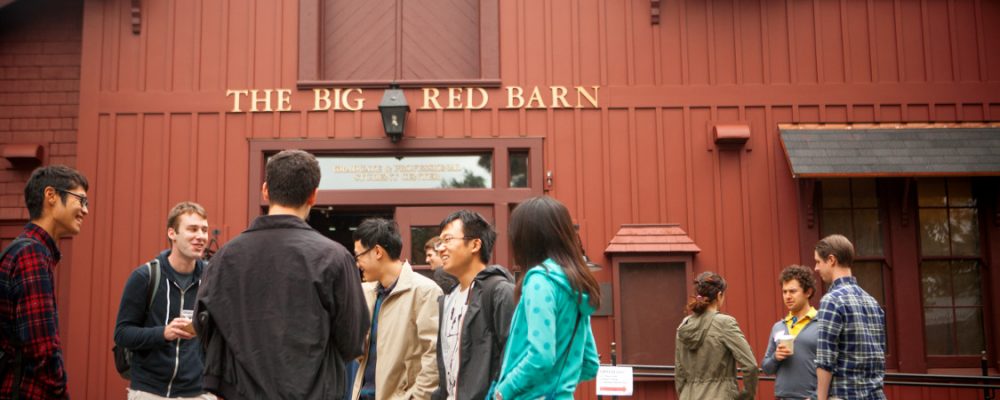 Welcome to Cornell!
Congratulations on your acceptance to Cornell…and welcome! We are excited that you will be joining us in beautiful Ithaca this August.
You are invited to attend the Graduate School's Orientation on Monday, August 26 from 9:00 am to 12:30 pm in Barton Hall.
We encourage early arrival. From 8:00 – 8:30 am, join us for a continental breakfast, meet our Graduate School deans and student ambassadors, pick up resource information in a reusable cloth bag, listen to music from a graduate student band, and network with your peers. Seating for the program begins at 8:30 am.
Our orientation does not replace your field orientation program but will supplement it and help you experience the benefits of being in a larger, interdisciplinary community. Please consult your field's website for field, college, and program-specific orientation programs.
Before You Arrive:
If you have not already done so, make sure that you visit the New Students web page for information specifically for graduate and professional students.
Respect at Cornell: Cornell University is committed to providing a safe, inclusive, and respectful learning, living, and working environment for its students, faculty, and staff members. All graduate and professional students must complete this video-based program, which provides critical information about sexual harassment, sexual assault, dating and domestic violence, stalking, gender discrimination, and bystander intervention options. Not Anymore will help you better understand how vitally important these issues are and what you can do to help make our campus safer. You can log in directly from the New Students website. Those who do not complete the program this summer will get email reminders.
Official Transcript: If you haven't already sent your final transcript to the Graduate School, our Graduate School Student Services Office will be at the Resource Fair to collect your final transcript.
Work Authorization (I-9): More information about securing work authorization as a Cornell student will be sent to you via email in August 2019. Information is also available through the Form I-9 video and reference guide with instructions to complete the Form I-9.
Special Sessions:
In addition to our morning program, you may choose to participate in one of six (optional) sessions on Monday, August 26 from 1:00 to 2:00 pm and 2:15 to 3:15 pm. Lunch will be provided for participants at 12:45 pm for first round of sessions and 2:00 pm for the second round of sessions. Check your schedule and, if you can attend, please RSVP to the session of your choice. Space is limited. Note that these sessions will be repeated in September specifically for first-year students through our Transitions Program.
Special Sessions I | 1:00 – 2:00 pm | Lunch at 12:45 pm | Location noted when you register.
Graduate school may not be exactly what you expected…so what is a first-year to do? Make a strategic plan! Spend time with our Associate Dean discussing the value of strategic planning and how to take control of your academic future from the first day. This session includes practical strategies, illustrative stories, and cautionary advice on avoiding and overcoming obstacles.
Presenter: Jan Allen, Associate Dean for Academic and Student Affairs
Mentoring is the most critical relationship for a graduate student. Mentoring begins with understanding what mentoring is and what you hope to get out of the relationship. Through interactive discussion and case studies, we will discuss how to establish a positive relationship and communicate effectively with your mentors.
Presenters: Colleen McLinn, Executive Director, Center for the Integration of Research, Teaching, and Learning, and Sara Xayarath Hernández, Associate Dean for Inclusion and Student Engagement
Did you know that imposter feelings are normal and that most high-achieving graduate students experience these feelings at some point? Join us to better understand the Imposter Syndrome; learn where it comes from and how it can manifest. More importantly, understand how it can be a barrier to graduate student success and what you can do to overcome this. Dr. Wong will use theory, data, clinical practice, and his own experiences as a graduate student to paint a picture of the Imposter Syndrome with accuracy, helpfulness, and humor.
Presenter: Wai Wong, Assistant Director for Community Based Services, Cornell Health
Special Sessions II | 2:15 – 3:15 pm | Lunch at 2:00 pm | Location noted when you register.
Do you find that you are asking yourself, "How can I accomplish all of these goals with limited hours in the day?" Fortunately, time management is a skill that can be learned! Join us for an interactive discussion on the top six tips to successfully manage your time. You will learn methods and insight to what top performers already know about time management. In addition, you will share with others what you have found works best for you.
Presenter: Janna Lamey, Assistant Dean for Graduate Student Life
At Cornell, almost all PhD students receive funding that pays tuition and provides a living stipend through a combination of fellowships, assistantships, and external scholarships. This presentation, will explain how stipends are paid, what your responsibilities are, and provides insight on how to be an active participant in your own funding plan.
Presenter: Jason Kahabka, Associate Dean for Administration
Learn about Cornell's response to the national conversation regarding sexual assault, sexual harassment and gender-based harassment. Join us in this conversation as we paint a picture of what the environment is like for graduate and professional students at Cornell. Finally, learn about Title IX and Cornell's commitment to address these matters on our community; and discover resources that are available to help individual students navigate relationships while at Cornell.
Presenter: Theoria Cason, Institutional Equity and Title IX Training and Education Coordinator
Additional Graduate School Orientation Events (Please RSVP as noted Below):
Monday, August 26 from 4:00pm – 5:00 pm: Ice Cream Social at the Big Red Barn Graduate and Professional Student Center is an opportunity for incoming students to connect with peers from across disciplines and graduate fields over Cornell Dairy Ice Cream. RSVP to attend the Ice Cream Social.
Tuesday, August 27 from 5:30pm – 8:00pm: Ithaca By Night lets you meet up with other incoming students for dinner at one of the many great Ithaca restaurants, guided by a current student. Bring cash for your portion of the dinner. Meet at 5:30 at the Big Red Barn Graduate and Professional Student Center at 5:30, sharp! RSVP to attend the Ithaca By Night Event.
Friday, August 30 from 3:30pm – 4:30 pm: New Student Mix & Mingle is networking over beer and snacks with other first-years at the Big Red Barn. RSVP to attend the New Student Mix & Mingle.
Friday, August 30 from 4:30pm – 7:00 pm: TGIF (Tell Grads It's Friday) at the Big Red Barn ($1 beer). No RSVPs, just show-up!
For International Students: Please plan to attend the Fall Orientation Program for international students on Saturday, August 24 from 10:00 am to 12:00 pm in the Statler Hall auditorium. More information on International Student Orientation.
Thursday, September 12 from 3:00pm – 5:00pm: Inside Scoop: A Cornell Library Information Fair for Graduate Students invites graduate students, new and returning, to come and enjoy free ice cream and appetizers, drinks, and door prizes while learning about Cornell Library services and resources for students pursuing master's and doctoral degrees. Come meet the staff and ask them questions, and bring a friend! The event will be held in Olin Library, Room B12.
If you have any questions, or need accommodations to participate in this event, please contact Janna Lamey, Assistant Dean for Graduate Student Life (607-255-5184 or janna.lamey@cornell.edu) as soon as possible.