Admitted Students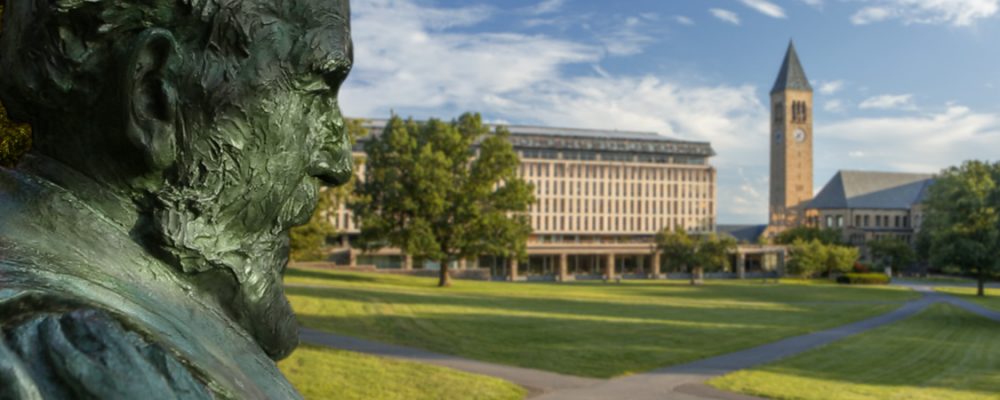 Welcome to Cornell!
Congratulations on your acceptance into Cornell…and welcome! We are excited that you will begin your graduate program soon and look forward to working with you.
Our goal is simple: To give you a warm welcome and help you become a member of Cornell communities of scholars and researchers. You will learn about graduate study at Cornell along with expectations and tips for success as a new graduate student. We will introduce you to available resources and support to help you now and during your degree program.
Our orientation does not replace your field orientation program; it supplements it to help you experience the benefits of a larger, interdisciplinary community. Please consult your field's website for field, college, and program-specific orientation programs. Please also make sure to keep track of your new student to do list.
---
Orientation Highlights:
January 19 – Orientation Hub opens
We will use Cornell's learning management system, Canvas, to house modules including information, resources, tips, and links to register for our formal program and Transitions workshops. The Orientation Hub is live, a link was sent to all incoming graduate and professional students. Access the Orientation Hub. (An active Cornell NetID is required to access).
February 5 at 10:00 am – Graduate School Welcome
The formal program, presented via Zoom, features Cornell President Martha Pollack, Graduate School Dean and Vice Provost for Graduate Education Kathryn J. Boor, the Graduate and Professional Student Assembly, and the Graduate School's associate and assistant deans who will help you understand Cornell's structure, funding, and much more. When students register, you will be asked to submit questions that you would like to be addressed during the panel discussion section of the program.
January and February – Transitions workshops via Zoom
The series is designed exclusively for first-year graduate and professional students and covers topics like understanding doctoral funding, mentoring, time management, and much more. View the Transitions page for more information.
January 27 and 28 – The 2021 Winter Pathways to Success (P2S) Series
The Winter P2S Series is a professional development opportunity for doctoral, professional degree, and research master's students and postdoctoral scholars that will provide participants with information and tools useful for their time at Cornell and beyond. Register
Sessions will include:
Adapting Professionally: Finding Direction in a Changing World
How to Strategically Prepare for Multiple Career Pathways
Exploring and Preparing for Faculty Careers with an International Lens
Getting Your Foot in the Door
---
For Our International Student Community:
Spring 2021 New International Student Orientation
Tuesday, February 2, 2021 at 8:30 am to 10:00 am (ET)
New and transferring international students (both undergraduate and graduate/professional students) are invited to the virtual spring orientation hosted by the Office of Global Learning.
This orientation will provide essential immigration and legal information, guidelines on health and safety, Office of Global Learning services and programs, as well as a chance to meet current international students and receive tips for academic success.
International Student Virtual Spring Orientation Information and Registration
---
Cornell University Student Identification (ID)
The University Registrar Office supports incoming students in securing their Cornell student ID. Students will need to physically go to the University Registrar office during the times listed below to pick up their ID card. The Office of the University Registrar is located at 163 Day Hall; students must enter through the loading dock door on East Avenue closest to Sage Hall and follow signage to ensure proper physical distancing and efficiency. Know that new admitted students will need to upload their photo via the New Student Checklist before obtaining an ID card.
The University Registrar Office is open during the following times for student ID pick-up
Week of February 1

Monday, February 1 from 10:00 am to 2:00 pm
Wednesday, February 3 from 10:00 am to 2:00 pm
Friday, February 5 from 10:00 am to 2:00 pm

Week of February 8

Monday through Friday from 9:00 am to 3:00 pm

Week of February 15

Monday, February 15 from 10:00 am to 2:00 pm
Wednesday, February 17 from 10:00 am to 2:00 pm
Friday, February 19 from 10:00 am to 2:00 pm
Students needing ID cards before February 1 need to email univreg@cornell.edu to make arrangements for ID pickup. Students residing in Ithaca who will not be on campus during the semester can send a request to univreg@cornell.edu to have their ID mailed to them.
---
Additional information available in the modules:
Pre-arrival and arrival information, including Cornell's COVID-19 testing and behavioral compact.
COVID-19 health information.
Not Anymore, a video-based program required for all graduate and professional students, with critical information about sexual harassment, sexual assault, dating and domestic violence, stalking, gender discrimination, and bystander intervention options.
Important Cornell offices and resources.
Online social events sponsored by the Big Red Barn Graduate and Professional Student Center.
---
Stay Informed
Graduate School Announcements posts Monday nights (ET)
All new students will begin receiving the weekly Graduate School Announcements. This newsletter, sent to current students, contains news, updates, deadlines, policies, resources, funding, programs, and events for Graduate School students.
Websites
---
Public Health Requirements
Keeping students, faculty, and staff safe
To maintain a safe, educational, and vibrant learning environment, Cornell has implemented a number of public health measures. Cornell's COVID-19 Information is updated frequently and includes complete information on Cornell's response to the pandemic and public health regulations, including archived updates, town halls, and information on student arrival, transportation, testing, and much more.
All students – whether remote or in the Ithaca area – must complete the Spring Checklist, which includes multiple actions before students can finalize enrollment in spring courses.
To maintain a safe, educational, and vibrant learning environment for all members of our Cornell community, all students in Ithaca will be required to abide by a campus Behavioral Compact and complete the Daily Check every day (including weekends).
Cornell's robust virus screening program is an absolute requirement for all students, whether living in on-campus housing or in the local Ithaca community.
Important resources:
Look for more information in our weekly Announcements.
---
Find Your Community
Knowing where to look can give you a head start
With 23,600 students, Cornell is large. This year, with students studying and researching in a hybrid learning environment, it may be especially hard to meet new people. The programs, organizations, and resources below are designed to bring people together.
---
Upcoming Student-Organized Events
Spring Kick-Off Social: Trivia Night
Register for Thursday, February 25th at 5:00 pm (ET)
Join the First Generation and Low Income Graduate Student Organization (FiGLI) to celebrate the new semester and compete for first place in virtual trivia! Both incoming and continuing students are welcome to come meet and hang out with other FiGLI members from across campus. Teams will be randomly assigned.
Join the listserv using your Cornell email address at figlicornell@gmail.com or connect with us on the FiGLI Facebook page, and find us on Campus Groups!
---
If you have any questions, please contact Janna Lamey, Assistant Dean for Graduate Student Life (607-255-5184 or janna.lamey@cornell.edu).