Admitted Students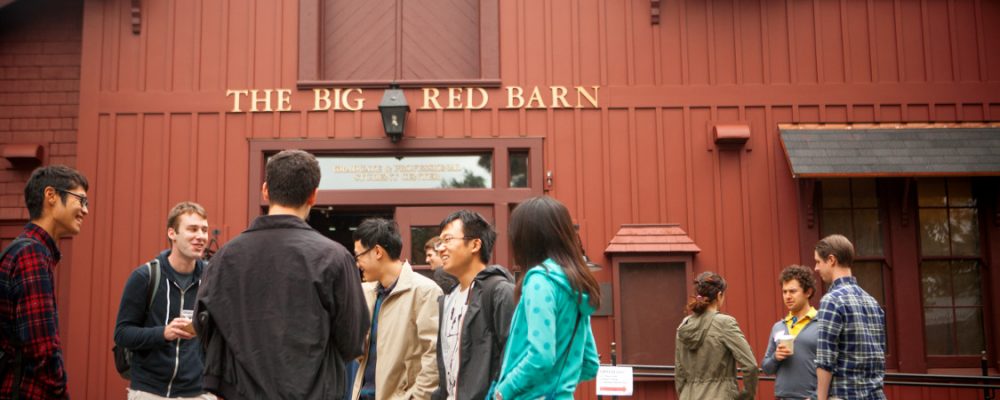 Welcome to Cornell!
Congratulations and welcome! We are excited that you will join us this January in beautiful Ithaca, New York!
The Graduate School's Orientation for new Spring 2019 students is Friday, January 18 from 9:00 am to noon in the Biotechnology Building.
Please note: Graduate School Orientation does not replace your graduate field's orientation program, it supplements it and introduces you to Cornell's larger, interdisciplinary community. Please consult your field's website for field and college-specific orientation programs.
Graduate School Orientation 2018 (PDF)
Orientation Program (9:00 am – 10:30 am)
Learn about Cornell and Graduate School requirements and resources. Current graduate and professional students will share strategies and advice, especially about the transition to Ithaca and to graduate school.
Cornell Welcome: President Martha E. Pollack
Graduate School Welcome: Dean Knuth
Graduate and Professional Student Assembly (GPSA) Welcome: GPSA President Ekarina Winarto
Academic Success: Associate Dean for Academic and Student Affairs Jan Allen
Pathways to Success: Associate Dean for Inclusion and Student Engagement Sara Zayarath Hernandez
Graduate Student Services: Associate Dean for Administration Jason A. Kahabka
Graduate Students, Graduate Stories Video and Panel Discussion: Assistant Dean for Graduate Student Life Janna Lamey with a faculty and student panel
Resource Fair (10:30 am – 12:00 pm)
Visit the 50+ groups and offices that graduate and professional students find most helpful.
Student ID Pickup (10:30 am- 12:00 pm)
Please make sure to go to the Big Red Barn at your designated time. Distribution time is based on the first letter of your last name.
| Time | Last Name |
| --- | --- |
| 10:30 - 11:00 | A-I |
| 11:00 - 11:30 | J-R |
| 11:30 - 12:00 | S-Z |
Orientation Special Sessions
In addition to our morning program, you may choose to participate in one of seven different (optional) sessions on Monday, August 20 from 12:30pm – 1:30pm and 1:30 pm – 2:30 pm. Lunch will be provided for participants at 12:15 pm for Session I and 1:15 pm for Session II. If you wish to attend, please RSVP to the session of your choice below. Note: These sessions will be repeated in September specifically for first-year students as part of our Transitions Program.
Special Sessions I 12:30 –1:30 pm | Weill Hall, 2 Floor (lunch at 12:15)
Develop Your Strategic Plan for Graduate School Success | RSVP

Graduate school may not be exactly what you expected. To promote success, make a strategic plan! Discuss the value of strategic planning and how to take control of your academic future from the first day. This session includes practical strategies, illustrative stories, and cautionary advice on avoiding and overcoming obstacles.
Presenter: Jan Allen, Associate Dean for Academic and Student Affairs

Get the Mentoring You Need and Want | RSVP

Mentoring is the most critical relationship for a graduate student. Learn what mentoring entails for both faculty and students and what you can expect to get out of the relationship. Through interactive discussion and case studies, we will discuss how to establish a positive relationship and communicate effectively with your mentors.
Presenters: Colleen McLinn, Director, Center for the Integration of Research, Teaching and Learning and Sara Xayarath Hernández, Associate Dean for Inclusion and Student Engagement

Understanding Imposter Syndrome (a.k.a. You Belong in Grad School) | RSVP

Imposter feelings are normal and most high-achieving graduate students experience these feelings at some point? Join us to better understand the Imposter Syndrome, learn where it comes from and how it can manifest. More importantly, understand how it can be a barrier to graduate student success and what you can do to overcome this. Dr. Wong will use theory, data, clinical practice, and his own experiences as a graduate student.
Presenter: Wai Wong, Assistant Director for Community Based Services, Cornell Health
Special Sessions II | 1:30–2:30 pm | Weill Hall, 2 Floor (lunch at 1:15)
Additional Graduate School Orientation Events
Monday, August 20, 3:30pm – 5:30pm: Ice Cream Social at the Big Red Barn Graduate and Professional Student Center is an opportunity for incoming students to connect with peers from across disciplines and graduate fields over Cornell Dairy Ice Cream. Hosted by our GPSA (Graduate & Professional Student Assembly). RSVP
Tuesday, August 21, 5:30pm – 8:00pm: Ithaca By Night lets you meet up with other incoming students for dinner at one of the many great Ithaca restaurants, guided by a current student. Bring cash for your portion of the dinner. Meet at 5:30 pm sharp at the Big Red Barn! RSVP
Friday, August 24, 3:30pm – 4:30pm: New Student Mix & Mingle is an opportunity to network over beer and snacks with other first-year students at the Big Red Barn. RSVP
Friday, August 24, 4:30pm – 7:00pm: TGIF (Tell Grads It's Friday) at the Big Red Barn ($1 beer and free snacks).
Wednesday, September 4, 5:00- 7:00 pm: Graduate Diversity and Inclusion Welcome Reception is an opportunity to kick off the new academic year and network with Cornell's community of graduate students, postdocs, faculty and staff RSVP
If you have any questions, or need accommodations to participate in any Orientation events, please contact Janna Lamey, Assistant Dean for Graduate Student Life (607-255-5184 or janna.lamey@cornell.edu).
For International Students: Please plan to attend the Fall Orientation Program for international students on Saturday, August 18 from 3:00 – 7:00 pm in the Statler Hall auditorium.
Before You Arrive:
If you have not already done so, visit the New Students web page for information specifically for graduate and professional students
Respect at Cornell: Cornell University is committed to providing a safe, inclusive, and respectful learning, living, and working environment for its students, faculty, and staff members. It is expected that all graduate and professional students complete Not Anymore, a video-based program. The program provides critical information about sexual harassment, sexual assault, dating and domestic violence, stalking, gender discrimination and bystander intervention options. Not Anymore will help you understand the vital importance and your role in campus safer. You can log in directly from the New Students website.
Official Transcript: If you haven't already sent your final transcript to the Graduate School, our Graduate School Student Services Office will collect your transcript at the Resource Fair.
Work Authorization (I-9): If you are scheduled to receive funding from Cornell or plan to hold a job on campus, please come prepared to complete the federal I-9 form. Bring identification. Your field or department may assist you in completing this requirement or you may complete this at dates/ times below. Drop by, with identification, during any of the times below:

Graduate School, Monday, August 20, 203 Malott Hall, Noon- 4:00 pm, or
CALS HR Office, 220 Bruckner Lab/ Hall, Monday- Friday from 8:00 am- 3:00 pm, or
Cornell SC Johnson College of Business, Statler Student Employment, Payroll Office, 135 Statler Hall, Monday- Friday from 8:30 am- 3:30 pm, or
Human Resource Service Center, 395 Pine Tree Road, EHOB, Suite 110, Monday- Friday from 8:30 am- 3:30 pm