Big Red Barn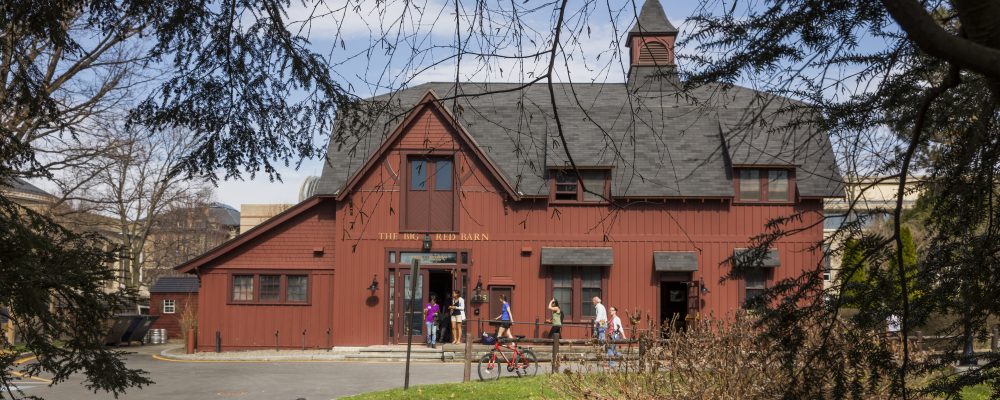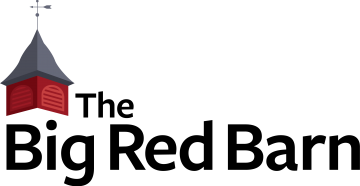 The Big Red Barn Graduate and Professional Student Center (the Barn), an old carriage house turned student center, is located in the heart of campus and surrounded by lawns and gardens. A central place for eating and relaxing, the Barn hosts more than 400 events per year, including the ever popular T.G.I.F. (Tell Grads It's Friday), Trivia Night, and Annual Year-End BBQ. Connect with the Barn on Facebook and Instagram (@brbcornell) to stay up to date on Barn events and community-related news.
History
The Big Red Barn was built in the 1870s as the carriage house for the home of Cornell's first president, Andrew Dickson White. The Barn, one of the oldest structures on campus, was converted to a social center by Cornell alumni in the 1950s and underwent a complete renovation in 1991. Antiques and farm implements recollect the building's past, while new additions remain faithful to its rustic atmosphere.
Setting
The spacious main portion of the building includes a stunning, but cozy, mezzanine. Tables and chairs cluster around a large grass pellet stove creating a warm setting for events. Upstairs mezzanine has lounge furniture for small group gatherings and leisurely study. The sunlit "greenhouse" has additional seating and access to the outdoor patio. It can be closed off for special functions.
In warm weather, a brick patio, barbecue pit, and outdoor tables surrounded by gardens are available. The facility is accessible by ramp.
Location
The Big Red Barn is located behind the A.D. White House and next to the Space Sciences building.
---
Spring 2021 Events
Virtual Trivia Night
Register for Thursday, January 12 at 8:00 pm
Join us for this special installment of the popular Big Red Barn Tuesday night trivia and meet some of the Barn staff! We will put together teams of new graduate and professional students or you can join an existing team. Compete against other teams for prizes and continue attending this program throughout the semester!
Virtual Game Night
Register for Thursday, January 14 at 6:30 pm or Thursday, January 21 at 6:30 pm
Join the Barn staff to play Jackbox games and Among Us. Meet other new graduate students, meet some of the Barn staff, and enjoy fun virtual interactive games. Compete against other teams/students for prizes and continue attending this program throughout the semester!
Virtual Plant-a-Palooza Sustainability Program
Register for Friday, January 29 at 6:30 pm
Register for an hour of plant-based fun, including:
Recycled container planting of succulents courtesy of Hortus Forum
Food scrap gardens
Guide to Ithaca-friendly houseplants
Most importantly, do not worry if you do not have food scraps, or the right size pot, etc. In the name of sustainability, work with what you have!
Virtual Writing Programs
Register for Tuesday, Wednesday, and/or Thursday mornings
Once you get acclimated to your academic work, you may find that a supportive community may be helpful when you want to write, read, grade, or focus. The Big Red Barn's virtual writing group may be the program for you. Tuesday, Wednesday and Thursday during the spring semester, join a virtual group of other graduate and professional students looking to focus on specific goals and help build a supportive community of productivity. Sign up for as many dates as are helpful and be ready to share and reach your goals!
How to Navigate Social Networks at Cornell as a Graduate or Professional Student
Register for Wednesday, February 10 at 12:00 pm
Register to join the staff of the Big Red Barn and Janna Lamey from the Graduate School to learn how to navigate social networks as a new student (or a returning student who wants new ideas). Hear from panelists from a variety of backgrounds on how they successfully connect to networks during the challenging times of a global pandemic.