Dean's Scholars Summer Engagement Series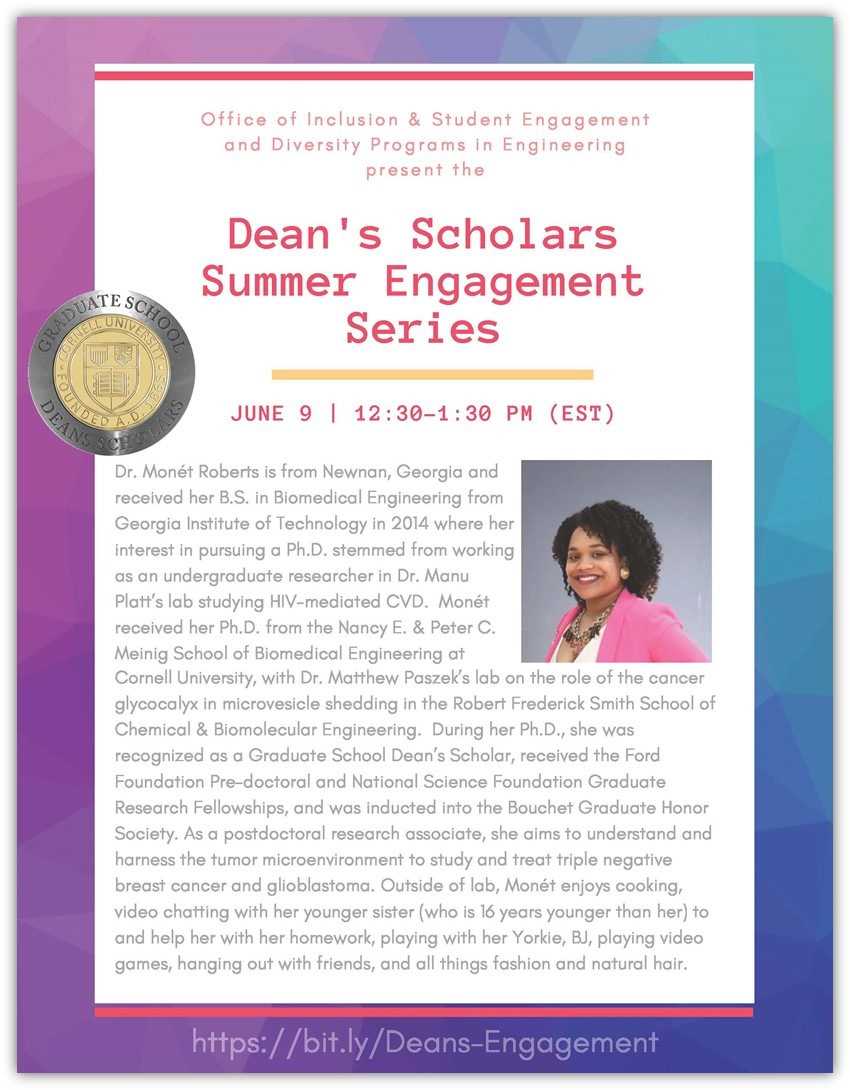 The Graduate School Office of Inclusion and Student Engagement and Diversity Programs in Engineering invite you to join us for the launch of the Dean's Scholars Summer Engagement Series!
This four-part series, serves as an early opportunity for incoming Dean's Scholars to engage with continuing Dean's Scholars as one means to helping you establish a sense of community and belonging at Cornell. Featured in each session is an invited Dean's Scholar alumni speaker.
Our alumni speakers will share insights with you on how they were able to establish community, navigate their progression through their graduate studies, work through moments of uncertainty, remain motivated, and find a sense of purpose.
Our featured speaker for our June 9 session is Monét Roberts, '17 M.S., '19 Ph.D., Biomedical Engineering.
Future Session Dates: June 23, July 14, and July 28.
About our Speaker
Dr. Monét Roberts is from Newnan, Georgia and received her B.S. in Biomedical Engineering from Georgia Institute of Technology in 2014 where her interest in pursuing a Ph.D. stemmed from working as an undergraduate researcher in Dr. Manu Platt's lab studying HIV-mediated CVD. Monét received her Ph.D. from the Nancy E. & Peter C. Meinig School of Biomedical Engineering at Cornell University, with Dr. Matthew Paszek's lab on the role of the cancer glycocalyx in microvesicle shedding in the Robert Frederick Smith School of Chemical & Biomolecular Engineering. During her Ph.D., she was recognized as a Graduate School Dean's Scholar, received the Ford Foundation Pre-doctoral and National Science Foundation Graduate Research Fellowships, and was inducted into the Bouchet Graduate Honor Society. As a postdoctoral research associate, she aims to understand and harness the tumor microenvironment to study and treat triple negative breast cancer and glioblastoma. Outside of lab, Monét enjoys cooking, video chatting with her younger sister (who is 16 years younger than her) to and help her with her homework, playing with her Yorkie, BJ, playing video games, hanging out with friends, and all things fashion and natural hair.
Accommodations
We strive to make our events accessible to all community members. Individuals who would like to request accessibility accommodations should provide these details in the registration form and contact al546@cornell.edu. We ask that requests be made at least one week in advance to help ensure they can be met.