Intergroup Dialogue Project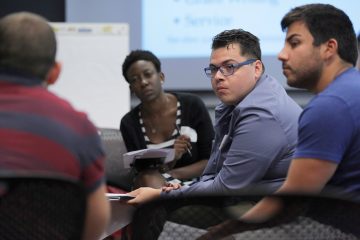 The Intergroup Dialogue Project (IDP) seeks to transform the campus climate at Cornell through courses for undergraduate and graduate students, faculty, and staff. The peer-led courses IDP offers blend theory with experiential learning, and they are designed to facilitate communication across social, cultural, and power differences, in a critical and meaningful way.
Focusing on social identities such as race, socioeconomic status, sexual orientation, ability/disability, and gender, the main objectives of IDP are as follows:
to promote the development of consciousness about social identity, oppression, and privilege;
to explore the effects of social inequality at personal, interpersonal, and structural levels;
to build relationships across differences and conflicts;
and to strengthen individual and collective capacities to promote social justice and equity.
An IDP short-course for graduate and professional degree students and postdocs was launched in Summer 2016 through a collaboration of OISE, Future Faculty and Academic Careers, and IDP. To learn more about this course, visit the IDP website.
Call for Applications: 2021 Intergroup Dialogue Short-Course for Graduate Students & Postdoctoral Scholars
Our Summer 2021 offering met virtually via Zoom from 1:30 p.m. – 4:00 p.m. EST on June 7, 10, 14, 17, 21, and 24
This initiative is co-sponsored by IDP, the Graduate School Office of Inclusion & Student Engagement, and Future Faculty and Academic Careers. It is also supported by the National Science Foundation under Grant No. 1647094 (AGEP CIRTL), and by the ETS/CGS Award for Innovation in Promoting Success in Graduate Education. Any opinions, findings, and conclusions or recommendations expressed in this material are those of the authors and do not necessarily reflect the views of the National Science Foundation.