Explore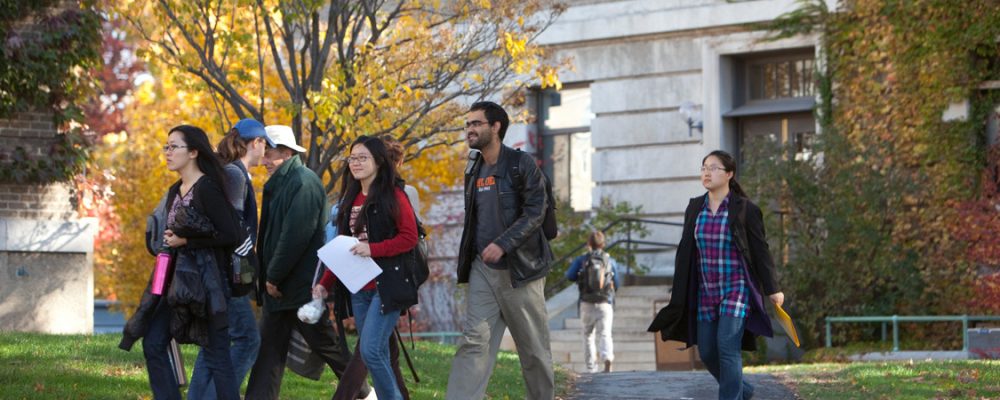 Graduate study at Cornell is cross-disciplinary by design. Our decentralized structure allows students in research degrees to customize their research, often drawing on faculty from across the university.
Each field sets its own admission requirements and makes independent admission decisions.
All applicants: Learn as much as possible about Cornell's degrees, fields of study (download the PDF), and Cornell field structure before submitting your application.
Professional degree program applicants: Review financial support information.
Research degree program applicants (Ph.D., M.S., and M.A.): Use keywords and the "Filter by faculty" feature in the fields of study search to research individual faculty members.
Visiting non-degree applicants: Identify a faculty host and receive approval for your visit before beginning the application.
---
Discover
With nearly 100 fields of study, Cornell has the broadest range of programs in the Ivy League. Cornell's founder, Ezra Cornell, created an institution where "any person could find instruction in any study."
---
Recruitment
Cornell University has a long-standing commitment to advancing diversity, inclusion, access, equity, and excellence in graduate education.
---
Research and Scholarship
With $700 million in research funding, Cornell University is consistently ranked as one of the most comprehensive universities in the world. Our students can move between different campuses through the Graduate Linkage program, which links graduate students at Cornell University's Ithaca campus with the Weill Cornell Medical College (WCMC) and Graduate School of Medical Sciences (WCGSMS).
---
Faculty
Cornell's nearly 1,800 graduate faculty represent the nation's finest researchers, scholars, and teachers. Cross-disciplinary by design, our field structure encourages faculty to work in more than one field, ensuring that faculty and students across the university can share ideas and work together freely and without undue administrative barriers.
A genuine camaraderie develops between student and faculty that would be impossible in a less intimate city or campus, and it is this camaraderie that truly sets Cornell apart.
---
Facts and Figures
The Graduate School enrolls more than 5,000 graduate and professional degree students with approximately 3,400 doctoral students and more than 1,000 professional students. To help prospective student in their decision-making process, and to inform current students, staff, faculty, and external audiences on program performance, the Graduate School provides detailed data on graduate study at Cornell.
Facts and Figures houses dashboards on doctoral program statistics, five-year admissions profile, five-year enrollment profile, Ph.D. median time-to-degree, Ph.D. attrition and completion rates by discipline, and doctoral career outcomes.
The biennial doctoral experience survey includes data on the student experience, satisfaction rates, and suggested improvements.
---
Learn more: