Diversity & Inclusion
The Graduate School is committed to providing an inclusive and holistic approach to graduate and postdoctoral scholar success.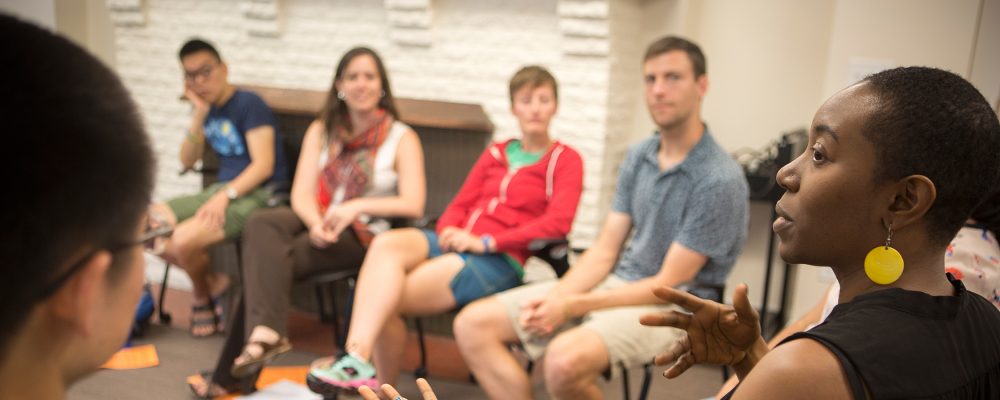 Office of Inclusion and Student Engagement
The Office of Inclusion and Student Engagement (OISE) supports an inclusive and welcoming environment for all graduate and postdoctoral scholars. OISE promotes a climate of diversity, inclusion, engagement, and achievement, which are integral components of graduate and postdoctoral education.
---
Recruitment
The Graduate School's Recruitment Office is committed to promoting graduate study at Cornell. Our staff serves as the liaison to all prospective students, especially those from diverse backgrounds and populations traditionally underrepresented in graduate education. Please use the links below to learn more about what the Recruitment Office and our personnel have to offer you.
---
Signature Initiatives
OISE provides specific mentoring, professional and academic development programs to help students achieve success at Cornell and in their future.
---
Bouchet Graduate Honor Society
Founded by Yale and Howard Universities in 2005, the Edward A. Bouchet Graduate Honor Society recognizes outstanding scholarly achievement and seeks to develop a network of preeminent scholars who exemplify academic and personal excellence, foster environments of support and serve as examples of CLASS: Character, Leadership, Advocacy, Scholarship, and Service.
---
Graduate Diversity & Inclusion Awards
Annual awards presented to graduate and professional degree students, faculty, staff, and community members who have demonstrated a strong commitment towards advancing efforts around diversity, inclusion, outreach, and graduate student engagement.
---
Funding and Resources
Cornell University provides access to a wide range of internal and external resources to help students reach their academic, professional, and personal goals.
---
Faculty Resources
---
Student Organizations
There are numerous student organizations represented on the OISE Student Leadership Council that work collaboratively with the Graduate School and other campus partners on initiatives to advance a sense of community, professional excellence, and a climate of inclusion for all graduate and professional students, but especially for those from marginalized communities and backgrounds historically underrepresented in the academy.
---
Graduate School Diversity Advisory Council
The Graduate School Diversity Advisory Council (GS-DAC), comprised of graduate students as well as faculty members, meets regularly throughout the academic year to identify issues, needs, and concerns related to promoting diversity and inclusion among graduate students and to plan diversity-related events and opportunities designed to foster these principles among the Cornell graduate community.
---
Toward New Destinations
Cornell's transformative diversity and inclusion framework, Toward New Destinations, provides a broad institutional structure for asserting the centrality of diversity and inclusion to the university's values and excellence. Cornell's diversity and inclusion framework is based on the recognition that education, research, knowledge production, and operational and academic pursuits are enhanced through full and reciprocal engagement among diverse perspectives, life experiences, and modes of knowledge creation and interpretation.
---
Reporting Bias
Reporting, understanding, and preventing unacceptable behaviors such as bias, sexual misconduct, and hazing are essential to maintaining our caring community. Cornell offers various avenues for reporting these incidents as well as receiving confidential care and support if you need it.