Doctoral Candidate and Advisor Receive 2022 HHMI Gilliam Fellowships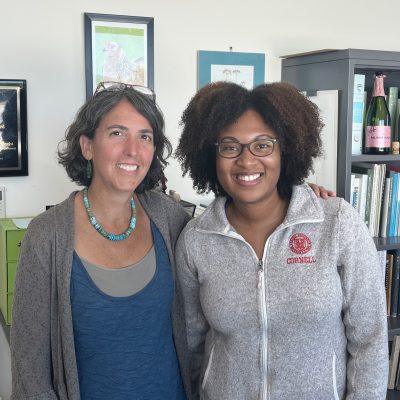 September 19, 2022
By Katya Hrichak
Ayress Grinage, a plant biology doctoral candidate, and Chelsea Specht, Barbara McClintock Professor of Plant Biology and associate dean of faculty, were selected as recipients of the 2022 Howard Hughes Medical Institute (HHMI) Gilliam Graduate Fellowships for Advanced Study.
HHMI Gilliam Fellowships are awarded to student-advisor pairs based on the institute and advisor's commitment to a culture of inclusion in academia and the student's potential for scientific leadership.
"It is a huge honor to receive the HHMI Gilliam Fellowship because this award signifies recognition of the importance of my field and of my potential to thrive as a scientist," said Grinage. "With this fellowship, I have many more resources."
Becoming a part of the HHMI Gilliam network provides Grinage the ability to share and promote her research into natural history more broadly, attend the Gilliam Annual Meeting and participate in HHMI leadership training. The funding will also enable her to build a wellness community within her graduate field at Cornell.
As a Gilliam Adviser, Specht will engage in a year-long, culturally responsive mentorship development program to learn more about how to best support students from backgrounds historically underrepresented in and excluded from science disciplines.
"I am excited to push my own growth edges on how to be a more effective mentor to a diverse cohort of students, while also meeting other faculty with similar mindsets and goals who can provide a network for sharing ideas and best practices," said Specht. "Practices that emerge from this community will help Cornell to recruit and retain scholars from diverse backgrounds and create an inclusive culture that centers the students in meeting their career development goals as we train and foster the next generation of academic scholars, researchers, and professors."
The Gilliam Fellowships for Advanced Study were created in 2004 in honor of the late James H. Gilliam, Jr., a charter Trustee of HHMI and chair of its Audit and Compensation Committee, to prepare students from groups historically excluded from and underrepresented in science to assume leadership roles and contribute to a more inclusive academic environment.