3MT 2018
All newly created videos on this website are accessible. Closed captions are available for all videos on this page, and selecting the option to watch in YouTube will provide a transcript for the video. For an accommodation for these archival videos, please contact webaccessibility@cornell.edu.
BME Graduate Student Jason Guss wins 2018 3MT Competition
"I've spent hundreds of hours collecting poop from mice," began doctoral student Jason Guss in his Three Minute Thesis (3MT) presentation on his research into the relationship between the gut microbiome and bone strength.
Guss, a doctoral student in biomedical engineering, had three minutes to explain his complex research and its significance to a panel of student, faculty, and staff judges from units across campus. The non-specialist panel judged the presentations on their comprehension and clarity, engagement, and communication style.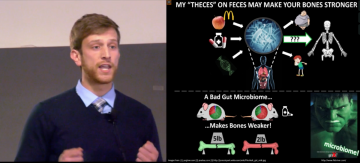 From the 17 students in the preliminary rounds, Guss was one of eight to make it to the final round of the Fourth Annual Three Minute Thesis Competition. The reaction from the audience and the combined scores of the six judges signaled Guss's first place win of $1,500.
Derek Holyoak, also a doctoral student in biomedical engineering, placed second, winning $1,000 for his presentation, "OA, No Way: A Simple Approach to Treat Osteoarthritis (OA)." The 150-member audience tied Holyoak and Guss for the $500 People's Choice Award.
"The 3MT gave us an opportunity to let loose and have fun while presenting our research," Holyoak said. "I plan to continue using the enthusiasm, humor, and actions I included in my 3MT for all of my future research and teaching presentations."
The first 3MT competitions took place in 2008 as the University of Queensland. Since that time, over 600 graduate schools in 65 countries host competitions to celebrate the innovative research of their graduate students. Cornell's Graduate School first hosted a 3MT competition in 2012. Since that time, the event has grown steadily. This year's winners were invited to present for Cornell's Board of Trustees.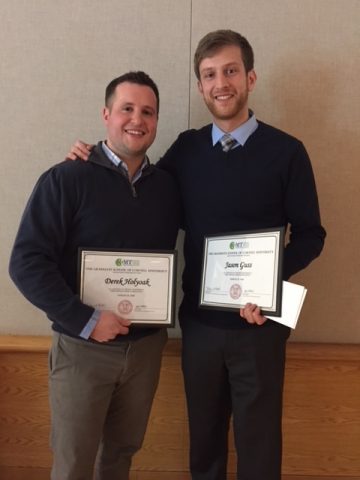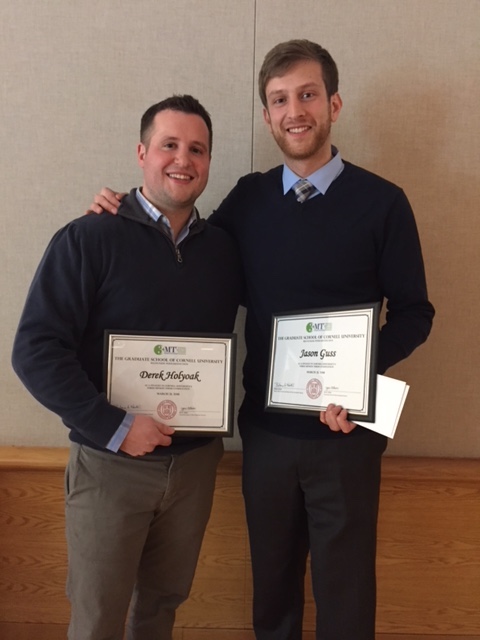 Jan Allen, associate dean of academic affairs for the Graduate School, said the competition provides an important professional development opportunity. Students are challenged to distill years of specialized research into a compelling and brief talk for general audiences, a valuable skill for students entering any future career. "We have such an enjoyable time watching our graduate students present their three-minute talks," she said. "We are so amazed and excited by the innovative scholarship and research our students are conducting. And they each have such a supportive 'fan club' in the audience. It's fun to watch their friends and colleagues urge them on, too."
According to finalist Carol-Rose Little, a doctoral student in linguistics, "it is very easy to be so involved in our research that we forget the bigger picture. The 3MT competition had tremendous value as it helped me think about how to effectively communicate my bigger-picture research results and impacts to the public. It was also a fun and rewarding challenge to present to a nonspecialized audience."
3MT Finalists
Jason Guss – My "Theces" on Feces May Make Your Bones Stronger – Biomedical Engineering
Special Committee Chair: Christopher Hernandez
Derek Holyoak – OA, No Way: A Simple Approach to Treat Osteoarthritis (OA) – Biomedical Engineering
Special Committee Chair: Marjolein van der Meulen
Hugo Milan – Cool Technologies for Happier Cows – Biological & Environmental Engineering
Special Committee Chair: Kifle Gebremedhin
Carol-Rose Little – What Can the Ch'ol Language Tell Us About Grammar? – Linguistics
Special Committee Chairs: Miloje Despic & Sarah Murray
Sabrina Solouki – Vaccines Build Armies – Immunology & Infectious Disease
Special Committee Chair: Avery August
Mengran Wang – Three Photon Microscopy – Seeing Deeper Inside the Brain – Graduate Field of Biophysics
Special Committee Chair: Chunhui Xu
Divya Shiroor – Regeneration 101: Lessons from Flatworms – Molecular & Integrative Physiology
Special Committee Chair: Carolyn Adler
William Pennock – Better Models Lead to Better Water Treatment Designs for the World – Civil & Environmental Engineering
Special Committee Chair: Leonard Lion