Becoming a Resilient Scientist Discussion Series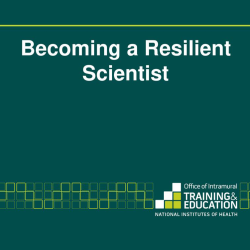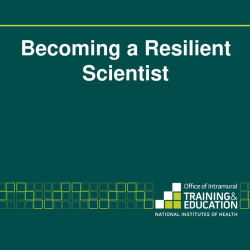 Have you ever wanted to practice developing the confidence and resilience needed to navigate challenging situations as a graduate student and in life? This fall, the Cornell Graduate School (Office of Graduate Student Life and Future Faculty and Academic Careers) will facilitate small online discussion meetings on Friday afternoons about the contents of a series of NIH webinars called "Becoming a Resilient Scientist."
The commitment involves watching a 2-hour webinar every other Thursday afternoon along with participating in a 1-hour Zoom discussion group with your Cornell colleagues. By participating in the Cornell Discussion Groups, students will be able to talk openly and candidly about the material presented in a space where confidentiality is the expectation. Below are the unit topics and the date/time with the link that to the webinar.
You can attend one, more, or all sessions. For weeks you choose to attend, you do need to watch the webinar prior to participating in the discussion session. Those who attend at least 4 out of 5 discussion sessions will receive a certificate of completion. We will be having an optional Wrap-Up Celebration Luncheon in-person at the end of the series on November 9th (more information to come).
There are a limited number of spaces to participate. Register online by September 6.