Donating Time, Developing Community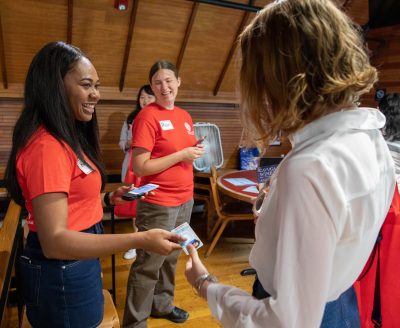 By Katya Hrichak
What does it take to orient 1,600 incoming graduate and professional students? Eleven-hundred red bags, thirteen-hundred cups of coffee, and a team of 80 student and staff volunteers working tirelessly to ensure the Graduate School's Orientation for new Fall 2018 students goes according to plan.
By the time incoming students received Orientation emails, staff had met regularly to intricately plan the half day event that consisted of presentations and panels in Bailey Hall, seven special sessions located in various buildings around campus, ID distribution in the Big Red Barn, and a resource fair of over 60 partners that spanned Bailey Plaza and the interior and exterior of the Big Red Barn.
With so many details to coordinate, even the seemingly simple elements took time and careful consideration. A few days prior to Orientation, a team gathered in the Big Red Barn to stuff red Cornell bags with goodies and handouts. This team, like the one present behind the scenes on Orientation day, consisted of students and staff volunteering their time to make sure new students felt welcome.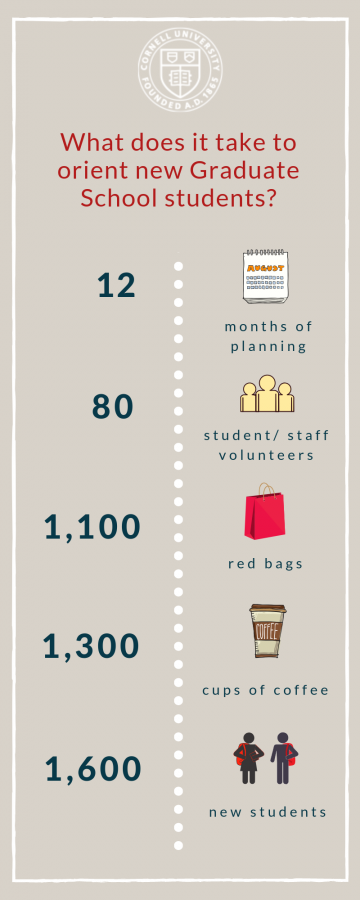 "I volunteer because it's fun and it helps me feel more connected with the students' experience when they arrive on the day of Orientation," said Anitra Douglas-McCarthy, senior director of Recruitment. "Volunteering also continues to be one of the ways that the Graduate School staff connect with one another as colleagues since we are all working together to achieve the common goal of providing the students with a great experience that will carry forward during their time at Cornell."
In past years, roughly 25 students volunteered to help with various aspects of orientation, but this year marked a new high with nearly 40 student volunteers performing tasks ranging from bag stuffing and ID distribution to resource fair set up and clean up.
"I chose to volunteer because I enjoy giving back and love paying it forward," said Nicole Andre, graduate student in the Veterinary Medical Sciences program. "Graduate school is scary enough, no less at a place like Cornell. Having students who are there, living it, breathing it, and working through it for themselves can create a welcoming environment I feel makes a difference. It shows something about the heart of the school's community."
Incoming students who participated in Ithaca by Night, an event in which current students dine with new students in restaurants downtown, expressed their appreciation through responses to a survey emailed to them following the event. Participating students noted enjoying meeting other new students and networking with those outside of their graduate field in an informal setting – actions which were facilitated by student volunteers.
"Seeing so many of our current graduate and professional students participate in this year's Orientation was inspiring," said Janna Lamey, assistant dean for Graduate Student Life, and Jan Allen, associate dean for Academic and Student Affairs. "While they were so critical in the function of our Orientation event, more importantly, they brought a warmth and spirit of service that was remarkable."
Katya Hrichak is a communications assistant in the Graduate School.