Eleven Graduate and Professional Students Lobby on Capitol Hill
By Katya Hrichak
Eleven Graduate School students, joined by one law student and 10 students from Weill Cornell Medicine, traveled to Capitol Hill for Cornell Advocacy Day on March 27.
Students met with members of Congress and their staffs to discuss research funding and financial aid for graduate and professional degree students, visiting a total of 25 offices from nine states as well as representatives from their home states.
"I am grateful that I was given this chance to visit D.C. and to interact with my government and legislators in such a direct manner. I was struck by the sincere attention we were given throughout the day," said Sarah Brown, a professional master's student in the Cornell Institute for Public Affairs. "What a great experience bringing government and policy to life!"
Four students who participated in Advocacy Day were also selected to attend the American Association for the Advancement of Science (AAAS) Catalyzing Advocacy in Science and Engineering (CASE) Workshop March 24-27 in Washington. Here, the students learned more about communicating and advocating as scientists, the inner workings of Congress and roles of staffers, and the policy work of federal agencies.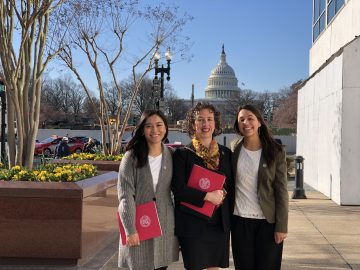 "I had a wonderful experience at the workshop. It was very informative and I really enjoyed getting to connect with other grad students interested in science policy," said Celine Cammarata, a doctoral candidate in human development and AAAS CASE workshop participant. "I learned a lot of concrete information that was helpful for me personally in shaping my understanding of science policy and the objectives and approaches of folks actively working in that arena."
The night prior to visiting Capitol Hill, students had the opportunity to speak with Government Accountability Office Assistant Director Terry Horner '92, Ph.D. '98. Horner spoke about his work in D.C., career opportunities outside academia, and the importance of advocacy and policy.
"This experience is as potentially life trajectory-changing as anything that happens in the classroom or the laboratory," he said, "and I know that it makes a difference in terms of what the outcomes are down here."
"Terry was extremely generous with his time and insights," said Sara Xayarath Hernández, associate dean for inclusion and student engagement in the Graduate School. "Having the opportunity to connect with alumni working on the Hill made for an even more meaningful experience."
Many staff and members of Congress encouraged the students to continue their advocacy.
Advocacy Day was co-organized by the Office of Federal Relations and the Graduate School Office of Inclusion and Student Engagement, and is also co-sponsored by the Broadening Experiences in Scientific Training program.
Katya Hrichak is a communications assistant in the Graduate School.
This story also appeared in the Cornell Chronicle.