Experiential Program Director Joins Graduate School
By Katya Hrichak
When the Broadening Experiences in Scientific Training (BEST) Program began, its focus was helping doctoral students in biomedical and other STEM fields explore careers outside academia. But recently, the NIH-supported BEST program moved to the Graduate School and was expanded to include all graduate students as well as postdoctoral scholars from all disciplines, including arts, humanities, and social sciences. To facilitate this change, Denise DiRienzo started as BEST Experiential Program Director on May 23.
In this role, DiRienzo will support career exploration and immersion opportunities for students and postdocs from arts, humanities, and social science disciplines, providing them with experiential opportunities to explore career paths, make informed decisions, and leverage their skills – the focus of the BEST Program.
"I am a strong believer in the value of experiential learning," she said. "I have worked in industry and academia, both as a faculty member and staff. As a result, one of my skills is thinking outside the box."
Prior to beginning her new position, DiRienzo worked most recently as the Director of Outreach and Programming for Cornell's College of Arts and Sciences. Before starting at Cornell, she served as Director of Experiential Learning at SUNY Oswego, faculty member in the communication department at SUNY Oswego, Executive Director of the Syracuse Area Landmark Theatre, and Community Relations Manager for the Oneida Indian Nation.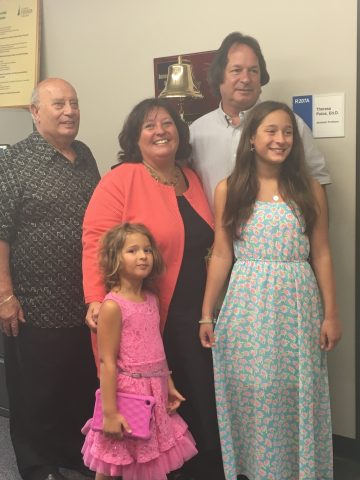 "I worked in the communications and administration fields after receiving my bachelor's and master's degrees, where I had great experiences and developed a number of skills. Then I decided to change careers and went back to school to get my doctorate while working and raising a family," she said. "I understand the challenges and love continually learning."
DiRienzo looks forward to connecting with individual students, sharing her outlook that options are unlimited, and creating pathways and options for participants.
"Her demonstrated ability to foster relationships with contacts in key employment sectors to provide experiential learning opportunities, demonstrated creativity and initiative, and extensive work experience in relevant sectors made her the perfect candidate for the new role," said Susi Varvayanis, BEST executive director. "We truly look forward to having her join the Graduate School team to help expand our program to graduate students and postdocs in the arts, humanities, and social sciences."
For more information about the program, visit the BEST website.
Katya Hrichak is a communications assistant in the Graduate School.