Four Postdocs Honored with Achievement Awards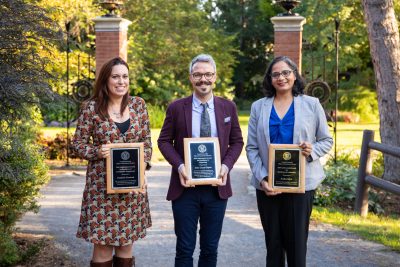 By Katya Hrichak
Four postdocs at Cornell were honored with a Postdoc Achievement Award Sept. 18 at the Big Red Barn as part of Cornell's celebration of National Postdoc Appreciation Week. In its second year, the awards are now co-sponsored by the Office of the Vice Provost for Research and include a monetary prize of $500.
The awards recognize postdoctoral scholars who have made contributions to community and show commitment to promoting inclusion at Cornell and in society. Fifty-eight postdocs were nominated and endorsed by letters from faculty, staff, graduate and undergraduate students in one or more categories. A committee of three people who interact with postdocs regularly reviewed the nominations and made final decisions.
The recipients are: Iván Chaar-López (Latina/o studies program and science and technology studies) and Benyamin Davaji (electrical and computer engineering) for Excellence in Mentoring, Anaka Aiyar (applied economics and management) for Excellence in Leadership, and Danielle Eiseman (earth and atmospheric sciences) for Excellence in Community Engagement.
Director of Postdoctoral Studies Christine Holmes believes it is important to formally recognize the postdoctoral community each year through the Postdoc Achievement Awards for the various ways in which they contribute to Cornell.
"I want to make sure that every year we have the opportunity to show how valuable the postdocs are on campus," she said. "During National Postdoc Appreciation Week, it gives us a chance to really celebrate what postdocs accomplish around campus with the award winners, their families, and their friends."
The expansion of the awards to include a monetary prize was a welcomed development in the awards' second year, said Associate Dean for Inclusion and Student Engagement Sara Xayarath Hernández. With many awards designated for graduate students and faculty, the development of the Postdoc Achievement Awards was important to filling a gap.
"These awards shine a light on the critical role that postdocs play across campus. From research to mentoring to participation in campus organizations and the community, postdocs have a significant impact," she said. "We are excited to have been able to expand the Postdoc Achievement Awards this year."
As a recipient of the Excellence in Mentoring Award, Chaar-López reflected on the value of the mentors in his life and how important it is to him to offer that guidance to other scholars.
"It is quite humbling to be recognized with a Postdoc Achievement Award, especially one devoted to mentoring. As a Latino scholar, I am committed to providing training, support, and guidance to students of all walks of life, though especially to those who come from underrepresented backgrounds," he said. "I've had amazing mentors throughout my life and I feel a strong responsibility to put into practice what they have taught me. The recognition bestowed upon me with this award is truly the recognition of their work and the importance of transforming U.S. academia with different voices."
For Aiyar, her award was acknowledgement of the support she receives from the Tata-Cornell Institute (TCI) and the faculty and students she regularly interacts with.
"I am very grateful that the TCI recognized my dedication and contribution to the great work that they are doing in India. It was an honor to even know that they nominated me," she said. "This award and Cornell's celebration of the National Postdoc Appreciation Week is a great initiative by the Office of Postdoctoral Studies. These initiatives recognize important contributions made by postdocs in support of their labs, departments, and in the mentorship of their colleagues. Having been given this recognition and knowing how grateful I feel about being nominated, I urge all labs, departments, and groups to nominate their postdocs in recognition of their contributions."
Katya Hrichak is a communications assistant in the Graduate School.