"Future Faculty and Academic Careers," a New Name for a Long-Running Program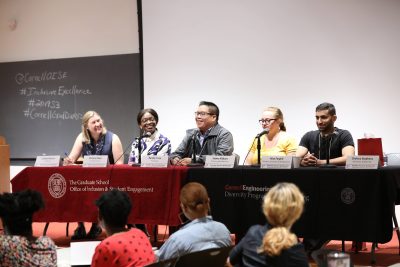 In the best of times, graduate students worry about their future career prospects. During uncertain times, it becomes especially important to focus early and often on the job market. To help students who are interested in pursuing faculty careers, the Graduate School has renamed its Center for the Integration of Research, Teaching, and Learning (CIRTL) at Cornell program to highlight the new emphasis on career preparation and job search assistance, and the enhancement of skill-building programs.
Newly renamed Future Faculty and Academic Careers, the NSF-funded CIRTL program came to Cornell in 2012 as part of a nationwide effort to integrate research into teaching for the next generation of faculty members and to provide expanded access to online courses, workshops, and networking opportunities with colleagues at other CIRTL Network institutions.
Colleen McLinn, executive director for Future Faculty and Academic Careers, is focusing on helping students in all fields and disciplines develop a sense of what a faculty role might look like for them and how to conduct a targeted job search.
According to McLinn, "In terms of hiring for and finding an academic job, it's all about the long-term strategy. It's so important to start reflecting on and documenting all the ways in which you have skills and perspectives that make you unique early on in the process. I want to help Cornellians figure out what an academic career can look like at a variety of places – liberal arts, community college, research-intensive – and then to see themselves in that setting, and communicate that vision in a compelling way."
Even before Cornell went online this spring, Cornell's future faculty programs included a distance learning component. The CIRTL program had a strong online presence through its network institutions, which live streamed their future faculty programs to member institutions. These programs will continue to be accessible for Cornell students.
"Renaming CIRTL at Cornell to Future Faculty and Academic Careers is one of the many ways in which the Graduate School is working to support students' career interests," said Barbara A. Knuth, dean of the Graduate School. "Our expanded programming for future faculty, complemented by the offerings of our other career-focused offices, helps our students prepare for their careers now and once the pandemic is behind us."
Students have found future faculty programs to be supportive and useful. Lucy Xiaolu Wang, a doctoral candidate in economics, has participated in a range of Graduate School and CIRTL Network programs, from a short course on improv skills for communication to a certificate on research mentorship to designing a study into outcomes of teaching economics with a mini-case study approach.
"As an economist, most of my research and training has been in econ-related fields. My transferrable skills and insights have been improved through opportunities to communicate with a general audience, and these programs have provided a resourceful platform for cross-disciplinary communication and learning," she said.
Wang believes these skills and the "strong emotional and mental encouragement" helped her secure a postdoctoral position for fall 2020 and a faculty position to begin fall 2021. She hopes to take what she learned through CIRTL at Cornell and "pay it forward" in her faculty position at the University of Massachusetts Amherst, another CIRTL Network Institution.
"I will continue my participation in CIRTL programs, both as a learner and a mentor, to share experiences in applying strategies to integrate research, teaching, and learning ," said Wang.
Doctoral students and postdoctoral scholars interested in becoming future faculty can learn more on the Future Faculty and Academic Careers website.
Related: