Graduate School Dean Named Chair of Blue Ribbon Committee for National Academies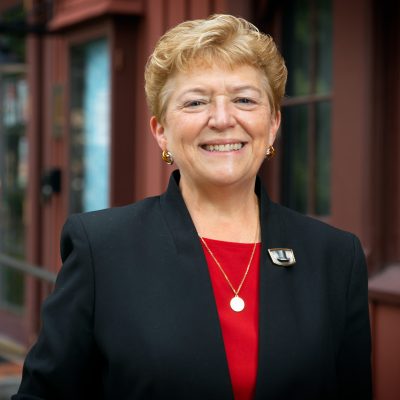 December 13, 2021
By Katya Hrichak
Kathryn J. Boor, dean of the Graduate School and vice provost for graduate education, was named chair of the Blue Ribbon Committee on Enhancing Coordination Between Land-Grant Universities and Colleges, established by the National Academies of Sciences, Engineering, and Medicine.
Using case studies, the committee will develop guidelines to inform collaborative projects between land-grant colleges and universities addressing national challenges and global food security. The committee's work will culminate in a final report, which will include actions land-grant institutions can take to promote and reduce barriers to collaboration.
"I am honored to chair the committee leading this effort," said Dean Boor. "Not only will these future collaborations solve pressing food and agriculture-related issues, but they will set the standard for effective future partnerships that will help prepare graduate students for their roles as future leaders."
Prior to becoming dean of the Graduate School and vice provost for graduate education, Dean Boor served as the Ronald P. Lynch Dean of the College of Agriculture and Life Sciences at Cornell University. She is a Fellow of the American Academy of Microbiology, the International Academy of Food Science and Technology, the Institute of Food Technologists, the American Association for the Advancement of Science, and the American Dairy Science Association. She currently serves on six boards of directors for organizations across the U.S. focused on food, agriculture, and economic development.
Blue Ribbon Committee members include Olga U. Bolden-Tiller, Tuskegee University; Dina J. Chacón-Reitzel, New Mexico Beef Council; Martin A. Draper, Kansas State University; Ronnie D. Green, University of Nebraska-Lincoln; Moses T. Kairo, University of Maryland Eastern Shore; Jan E. Leach, Colorado State University; Karen I. Plaut, Purdue University; Wendy Powers, University of California; Ryan F. Quarles, Kentucky Agriculture; Harold Schmitz, March Capital U.S., LLC and University of California, Davis; and Steve Yanni, Bay Mills Community College.
The National Academies of Sciences, Engineering, and Medicine are nonprofit organizations dedicated to informing policy, initiating progress, and addressing prominent issues to better society.
This story is also available on the Cornell Chronicle website.