Graduate School Welcomes 1,700+ New Students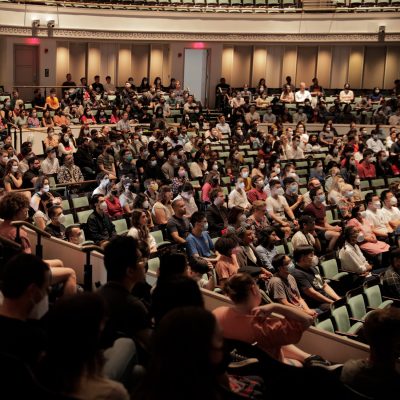 The Graduate School welcomed over 1,700 new graduate and professional students this fall, many of whom were able to attend the Dean's Welcome, held in-person for the first time since 2019. In her address, Dean of the Graduate School and Vice Provost for Graduate Education Kathryn J. Boor encouraged students to explore the cross-disciplinary opportunities offered by Cornell's academic programs and to develop friendships with peers and relationships with faculty mentors that can last a lifetime.
Boor acknowledged that whether in Ithaca, on the Cornell AgriTech campus in Geneva, or on the Cornell Tech campus in New York City, the new students' contributions will "bring to life Cornell's founding mission and long history of academic excellence." The Graduate School will continue to welcome new graduate and professional students over the next few weeks with a new student mixer, an ice cream social, and other events focused on successfully navigating the academic and student life experience at Cornell.
Current Graduate and Professional Students Advise New Students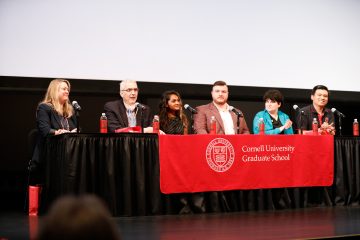 Following the dean's address, a panel of Cornell graduate faculty and doctoral and master's students gave candid, experience-driven advice to new graduate and professional students. From tips about finding a mentor to getting comfortable with writing, panelists offered useful insights to new students about how to be successful – and happy – in graduate school. Panelists' tips included:
Keep in mind that progress as a graduate student looks different than it did in your undergraduate years: it's smaller, gradual, and harder to see. Rikki Serafina Laser, a Ph.D. student in psychology said, "Every paper read, every research idea considered (even those rejected)…you are making progress. And I am proud of you!"
Working with a mentor can be a blessing and a curse, said Hetvi Satish Doshi, Ph.D. student in human development. "So much one-on-one time!" If it is more of the latter than the former, you can switch advisors. You have options.
Broaden your view in graduate school. And, start broad with a thesis or dissertation topic. You can then narrow the scope to something that is more doable in the amount of time and funding available to you.
Completing a master's or doctoral degree takes self-discipline and self-motivation. You may experience less structure than as an undergraduate.
Being in graduate school can surprise you with the number of words you have to read and the number of words you have to write.
Put yourself out there. Network. Ask people to go out and do things. You definitely can have academic-life balance at Cornell.
Stay humble. Once you get your first, then second, then third publication or an external fellowship or Cornell award, modesty can be an attractive quality.
Cornell is big, but also warm and welcoming. There is so much to do and there are so many wonderful people here. Get out there and meet people and enjoy all the things you can do – Chili Fest, Apple Fest, Porch Fest, skiing, water sports, horseback riding (yes, you can take an equestrian P.E. class – don't fall off!), hiking, camping, wineries, beautiful gorges (stay safe!), and nearby state parks are available for exploring.
Thank you to our panelists for welcoming, encouraging, and inspiring new graduate and professional students with their advice. Panelists included:
Erin York Cornwell, director of graduate studies in sociology
Peter Doerschuk, director of graduate studies in biomedical engineering
Hetvi Satish Doshi, Ph.D. student in human development
Preston Redding Hanley, M.P.A. student in public administration
Rikki Serafina Laser, Ph.D. student in psychology
Vinh Le, M.S. student in hotel administration
On Monday, Sept. 12, the Graduate School will co-sponsor another event to welcome new graduate and professional students: The Resource Fair will be held from 1:00 – 5:00 p.m. in Barton Hall. This event is designed for incoming students but will be open to all graduate and professional students on campus. This is an opportunity for students from across programs to engage with one other while also learning more about the resources, offices, and organizations that help to support their development and progress at Cornell.