Impact vs. Intent: Becoming Critical Allies Through Workshop Series
By Katya Hrichak
When it comes to allyship, there is an important distinction between impact and intent. To explore this difference, the student-organized Building Allyship Series is providing an essential space for the campus community to engage in productive dialogue about becoming more effective allies.
"To be an ally is not static – as our understanding of power structures grows, so too does our understanding of where we fit into these structures and how we can use our positions near the top for the benefit of the disenfranchised," said Marguerite Pacheco, biomedical engineering doctoral student and a series organizer.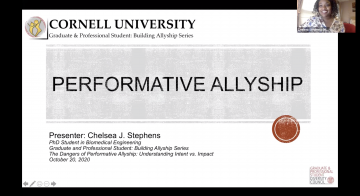 The October session, "The Dangers of Performative Allyship," focused on the differences between critical and performative allyship and what Chelsea Stephens, biomedical engineering doctoral student and event moderator, called the "spectrum" that exists in between.
According to Stephens, performative allyship entails "surface-level acts of engagement," such as posting support on social media. Critical allyship, on the other hand, is "understanding what you benefit from and transferring those benefits to those who lack privilege in a specific context" through action that is directly to the advantage of others.
"It's okay if you make mistakes or engage in performative allyship," she said, "but to really make a change, you need to work towards critical allyship."
Brianna Tate, animal science doctoral student and moderator of November's "Understanding and Combating Anti-Blackness" panel, offered several distinct steps to guide potential allies from performative allyship and good intent to critical allyship and immediate impact in regards to anti-Blackness: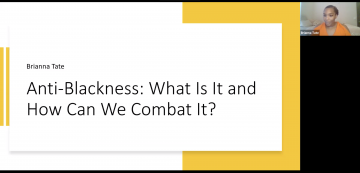 "Acknowledge that anti-Blackness exists and that you may unintentionally contribute to it, and acknowledge the experiences that your Black colleagues have, will have, or may currently be experiencing," she said. "Only then can the next two steps, educating oneself and taking action, be carried out with intention and impact."
Important to this process, Tate said, is addressing subconscious biases, including coded language, colorism, and harmful ideologies. Elaborating on the impacts of these biases, she shared one of her own experiences:
"Back when I was a freshman, I had a professor flag an essay assignment of mine because 'it didn't sound like I wrote it,'" she said. After feeling insulted, she began rationalizing how the language she used could have given that impression.
"We internalize the anti-Black sentiments that bombard us every day to the point that we begin to self-police ourselves," she said. "Events such as these are a great first step to shining light on the many manifestations that anti-Blackness can take and how allies can better help to identify, address, and diffuse them."
The 2020 sessions have concluded, but the series will continue in 2021 with "Coming Out for Allyship with the LGBTQ+ Community" in February and "Existing and Acting at the Crossroads: Understanding Intersectionality to be Better Allies" in March.
"It is never too late to become an ally, and you're also never done learning how to be a better ally," said Pacheco.
For more information, watch recordings of "The Dangers of Performative Allyship: Understanding Intent vs. Impact" and "Combating Anti-Blackness: A Virtual 'Fireside Chat' with Cornell Bouchet Scholars."
Initiated by the Graduate and Professional Student Assembly Diversity and International Students Committee, the Building Allyship Series is a collaboration of the Graduate and Professional Student Diversity Council and the Graduate School Office of Inclusion and Student Engagement.
Related: