Institute Promotes Inclusive Teaching Practices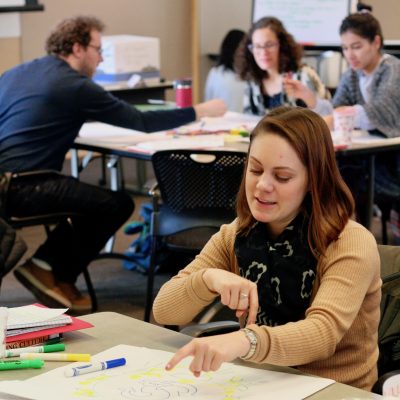 By Katya Hrichak
Activity and discussion filled the ILR Conference Center on March 8 and 9 as 22 graduate students and postdocs developed skills for teaching in diverse classrooms. In its fourth year, the two-day Inclusive Teaching Institute featured a variety of sessions run by four co-facilitators, each challenging participants to expand their thinking and understanding to become better future educators.
"The Inclusive Teaching Institute provides a forum for graduate students and postdocs to work peer-to-peer, share knowledge, and build a shared community of practice around inclusive teaching," said Melina Ivanchikova, co-facilitator and associate director of inclusive teaching in the Center for Teaching Innovation (CTI). "An institute like this one provides an intensive course-like experience for participants to focus intentionally on self-development, explore how to create a sense of belonging, experience a variety of approaches to increasing engagement and inclusion, and make a plan for future teaching."
The first day of the institute focused primarily on social identities and how both teachers' and students' identities come into play in the classroom. Through paired activities, participants broadened their awareness of the lived experiences of others in order to learn to better communicate across differences. Facilitators then challenged participants to brainstorm techniques that effectively bring this knowledge into the classroom setting.
Fernando Galeana Rodriguez, a graduate student in development sociology, said the institute provided a safe space for graduate students to discuss complex issues around diversity, identity, and inequality in the classroom.
"I came out of the two-day workshop with concrete ideas about teaching techniques that I could apply to make learning more inclusive and a plan to continue developing these competencies," he said. "Overall, I felt empowered that I could draw on my own identity to connect with students and raise awareness about issues of social justice."
The following day focused on all aspects of communication with students, from face-to-face interactions to course design. One of the morning's activities, based in improvisational theatre techniques, asked participants to observe their physical behaviors and what they communicate through motion and posture. The final activity was creating an action plan to cohesively integrate the two days' lessons into the classroom.
"Students take away an understanding that they need to consider their identity as instructors, their students' identities, and how those may differ and play a role in their learning," said Colleen McLinn, co-facilitator and executive director of the Cornell Center for the Integration of Research, Teaching, and Learning (CIRTL at Cornell). "They also think about diversity in terms of types of assignments, types of content, authors assigned, teaching strategies, and, most importantly, building an inclusive classroom climate where everyone feels welcome and supported."
The Inclusive Teaching Institute is sponsored by CIRTL at Cornell and the CTI and is offered each spring semester.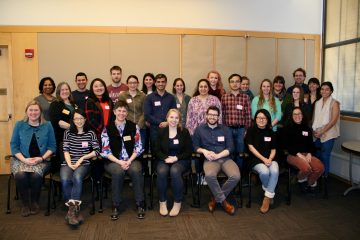 Katya Hrichak is a communications assistant in the Graduate School.