Pollack Leads with Gratitude at GPSA Meeting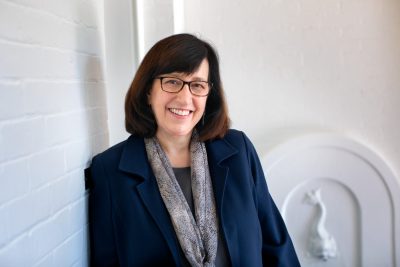 "I'm enormously grateful to each and every one of you," began President Martha Pollack during her comments to the Graduate and Professional Student Assembly (GPSA) on Nov. 9. Over Zoom, she addressed the 87 participants, including 16 voting members, about 2020's unique challenges and Cornell's slate of initiatives in response to student needs.
"You really took on the challenges of this semester with determination and commitment. You voiced your concerns and you worked together to find solutions. You put your time and your energy into finding the best and most effective ways to move forward in this new reality," she said.
According to Pollack, several recent initiatives were in direct response to student feedback and institutional and student-led survey data. These included opening a new downtown COVID testing center for easier access to surveillance testing and enhancing the Student-Parent Dependent Care Grant to expand eligibility requirements and increase flexibility for how students can use the grant.
"You let us know what you needed to thrive and how we can help you succeed, and because of that, we've been able to identify stressors that are particularly profound during the pandemic and put in place steps that we hope help mitigate them," she said.
Before opening the virtual floor to questions, Pollack also addressed the low transmission rates of COVID in the Cornell community, release of the mental health review and available mental health programs, and initiatives intended to combat systemic racism and bias across the university.
She reiterated the importance of keeping doors open to "the very best students" from across the world and she referenced Cornell's recent lawsuit and other actions regarding visa rules. Welcoming international students and scholars is "part of who we are" as an institution.
Pollack also recognized leadership changes that took place this semester, including Kathryn Boor's transition to Dean of the Graduate School and Vice Provost for Graduate Education.
"[Dean Boor] isn't just a brilliant scholar, outstanding mentor, and exceptional administrator, but she's a visionary. She sees people and institutions not only as they are, but as they might be, and helps map out a path for how we get from the present to the future," she said. "We're looking forward to seeing what, under her leadership at the Graduate School, all of you can achieve over the next five years."