Speaker Offers Key to Communicating Research Effectively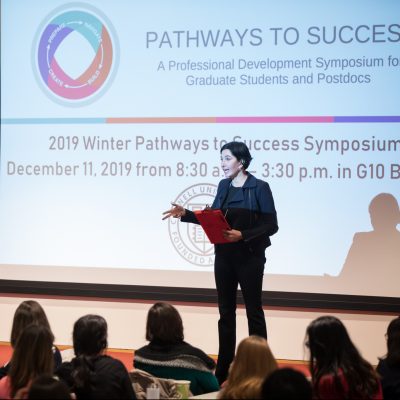 By Katya Hrichak
"What would happen if everyone could deliver their content better?" Eliza VanCort asked her audience at the Winter 2019 Pathways to Success (P2S) Symposium on December 11, 2019. VanCort, a motivational speaker with a focus on communication, gave graduate students and postdocs in attendance tools to communicate more effectively.
During the two-hour workshop, she described the ways in which powerful communicators use the five tools of silence, volume, cadence, pitch, and body to convey important information while actively engaging their audiences.
"Communication is really like a code," she explained. "When you communicate well, when you understand the coding, … you can control any situation."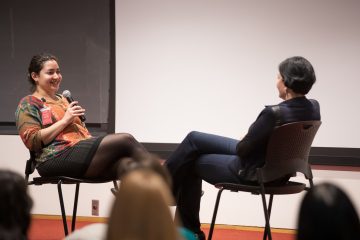 Aerospace engineering doctoral candidate Doğa Yücalan was given the opportunity to practice these techniques when volunteering during VanCort's presentation. Since then, she has been more intentional about her own communication.
"Being a great researcher and a great communicator are not necessarily connected, and therefore it is critical to know how to use the five basic tools for communication," said Yücalan. "I am more aware now regarding how people communicate to me, and I am trying to be mindful about how I present myself, especially in a professional context."
To Sara Xayarath Hernández, associate dean for inclusion and student engagement, communicating effectively is the key to furthering one's research and making it more impactful.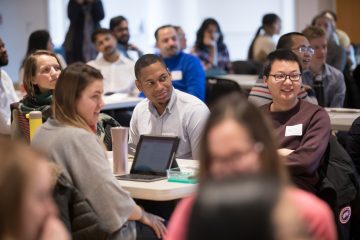 "This winter's Pathways to Success Symposium added VanCort to the lineup to help students and postdocs learn keys to skillful communication," she said. "We hope that everyone will employ the effective communication strategies they learned through this session in a variety of contexts including expanding the reach of their research."
Pathways to Success is the Graduate School's professional development framework and suite of academic, career, personal, and professional development programs. The Summer P2S Symposium will be held on June 3, 2020.
P2S Symposia are sponsored by the Graduate School, Office of Postdoctoral Studies, Cornell Career Services, and English Language Support Office with participation from the Graduate School Offices of Inclusion and Student Engagement, Academic and Student Affairs, Graduate Student Life, Careers Beyond Academia, and the Center for the Integration of Research, Teaching, and Learning (CIRTL) at Cornell.
Related: