Using Technology for Social Good: Alumnus Featured at Pathways to Success Symposium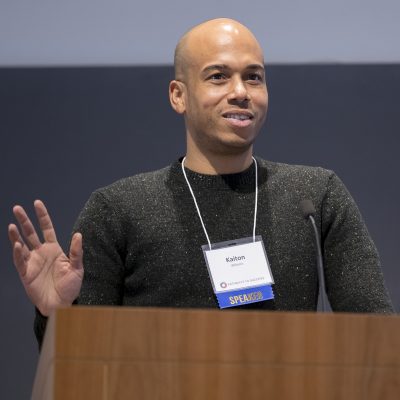 By Katya Hrichak
"How do you manage to be an ethical social impact company and do it at a scale that pleases people who invest in you and even pleases yourself?" asked Kaiton Williams, Ph.D. '17 to an audience of graduate students and postdocs during his opening plenary session at the Feb. 26 Pathways to Success Symposium.
The Pathways to Success Symposium, hosted by the Graduate School, brings graduate students and postdocs together for a full day of workshops focusing on professional and career development. The Winter 2019 Symposium focused on "Building Your Skills: The Entrepreneurial Mindset".
During his plenary talk, "Making an Impact through Social Entrepreneurship", Williams spoke about the landscape of social entrepreneurship, his path to graduate school at Cornell, and the goals of his two companies, Promise and Impact America Fund.
"These two companies, a startup that tries to get people out of jail and a venture capital fund that invests in other people, they seem very different," he said. "But to me, it feels like I'm working on one thing, and that's major technology for marginalized people. Each place I'm working feels like a different expression of the same search for economic equity and social justice."
Although this was not what Williams initially intended when he left a job at Microsoft to study information science at Cornell, he saw "a real movement for change in this country" and allowed it to guide his interests.
"I chose Cornell because I wanted a bigger, more critical perspective on how computers and computer interactions could be imagined and designed. Where I was in California, I think it was quite limited. I didn't think the design processes I got to see in California included enough of the people who looked like me or who came from the kinds of places that I came from," he said. "And it bothered me perhaps most that the people who were doing this design work weren't bothered by that."
Now, through his two companies, Williams seeks to uplift marginalized communities. While Promise works to keep individuals out of jail, Impact America Fund invests in companies designed by and for members of communities underrepresented in the current market.
"It was a direction I was already heading in, and it was something I was already passionate about. I just hadn't said it out loud before. If you had asked me a year or two before I had graduated what I was going to do next, I would never have told you any of these things. I had to allow myself to be comfortable with what was coming naturally to me," he said.
Exploring careers beyond the professoriate was a common theme at the Symposium with a lunchtime panel focusing on careers within academia, but outside of the tenure track, and a session on "Exploring and Preparing for Careers Beyond the Humanities" with Anne Krook, a former Ph.D. and founder of Practical Workplace Advice. The final sessions guided participants through effective data visualization and management, skills important in a variety of settings.
"It is important for our students and postdocs to explore and prepare for multiple career pathways both within and outside of academia," said Sara Xayarath Hernández, associate dean for inclusion and student engagement. "Through our Pathways to Success programming, we aim to offer insight that informs them of career options they might not have previously considered."
Pathways to Success is the Graduate School's suite of academic, career, personal, and professional development programs. The next P2S Symposium will be held in June 2019 with a focus on the theme of communication.
Katya Hrichak is a communications assistant in the Graduate School.