Zoom Defenses Draw Large Audiences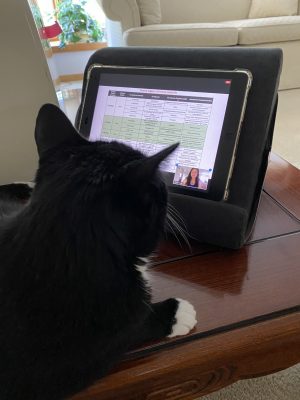 By Katya Hrichak
Defending a dissertation is the final step in an often arduous journey to a doctoral degree. Students typically enter a small conference room filled with their special committee chair and other faculty members. This year, Cornell doctoral candidates followed a different playbook. They logged onto Zoom.
For Elena Michel, Ph.D. '20, and Aaron Joiner, Ph.D. '20, Zoom allowed friends and family from around the world to attend in greater numbers than the standard size conference rooms typically used for defenses.
"It would have been impossible for 81 people to fit in the room my field uses for defense seminars," said Michel, who defended her dissertation, titled "Dynamics and Functions of Plastid Lipoprotein Particles", over Zoom.
Joiner anticipated an in-person audience of 25 to 35 people, but instead had 80 people Zoom in for a defense of his dissertation, titled "Molecular Mechanisms of GTPase Activation in the Early Secretory Pathway."
"The biggest benefit was being able to invite many, many more people than I would have been able to invite originally," he said. He found it incredibly powerful to invite several "important people who have been instrumental to my success."
Zoom has additional benefits, Joiner noted. Presenting remotely from his computer allows quick access to supplemental files during the presentation. Afterwards, he could view the recording to better understanding how to improve speaking and presentation style for future presentations.
For Michel, using Zoom for most group communication in the months leading up to her defense made this presentation even smoother.
"Luckily, months of presenting remotely during my lab meetings improved my technique," she said. "I got very comfortable presenting to my computer without being able to see my audience!"
As someone who "had a bad habit" of frequently preparing for presentations by delivering practice talks directly to her computer rather than to a real or imagined audience, Michel was pleased to find her method worked.
As newly-minted Ph.D.s, both Michel and Joiner have accepted postdoctoral positions. Joiner will work as a postdoctoral researcher position at UC-Berkeley in a structural biology-related lab, and Michel is in a postdoctoral associate position in CALS before transitioning to one at the Boyce Thompson Institute later this month.
"Since activities went online in March, we have seen our graduate students repeatedly demonstrate their abilities to be resilient and pivot to meet new challenges," said Associate Dean for Academic and Student Affairs Jan Allen. "It has been especially rewarding to watch students successfully defend their dissertations in front of their faculty, as well as their friends, family, and pets."