Alumna/Postdoc Spotlight: Annika Huber, Ph.D. '19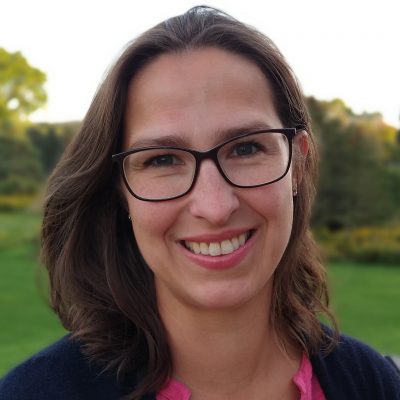 September 27, 2021
Annika Huber, Ph.D. '19, is a postdoc in the Department of Chemical Engineering from Bayreuth, a small city in Northern Bavaria in Germany. She holds a doctorate from Cornell University and her current research at Cornell focuses on how plants respond to drought. She is a recipient of a Postdoc Achievement Award as part of Cornell's celebration of National Postdoc Appreciation Week 2021 for her ongoing participation in her department's Diversity and Inclusion Program (DIP) and development of DIP's Community Agreements, statements that guide interactions in the department.
What is your research area of emphasis?
My research focuses on plant hydraulics and how they respond to drought. I am working with a nanoparticle sensor, called AquaDust, that adjusts to its surrounding water status and reports this water status through a fluorescence signal. AquaDust can be injected into leaves where we look at water stresses under different environmental conditions to understand the water flow through leaves after water exits the main water-conducting pipes (vessels) in the leaves and finds its way to the stomates (small pores) through which water leaves the plants.
I am also injecting AquaDust in the soil around plant roots to further understand water stresses that develop around roots during water uptake.
What are the broader implications of this research?
The work with AquaDust aims toward a deeper understanding of how plants control water uptake and water loss. This knowledge helps to identify traits that make plants drought resistant and can help to identify and breed plant lines that can cope with less water while maintaining high productivity.
What does receiving a Postdoc Achievement Award mean to you?
I am very grateful to be part of a community that acknowledges each other's work. It feels amazing to know that the work I did on authoring the Community Agreement for the department is seen and appreciated. I want to thank everyone who nominated me for this award.
What hobbies or activities do you enjoy in your spare time?
I am all about family. When I am not working, I am spending time with my husband and my two little girls (4 years and 8 months). We do gardening together, hiking, and enjoy swimming in the summer.
Why did you choose Cornell?
I chose to stay after finishing my Ph.D. because I appreciate the interdisciplinary work Cornell is not only supporting but also promoting. My interdisciplinary work offers me to grow personally and professionally. Different viewpoints and thinking strategies help me and my research to grow.
Additionally, I enjoy the Cornell community. I enjoy that people care for each other and go out of their way to show the appreciation they have for each other. It is good to be in a place that cares about my work as well as for me as a person.
What is next for you?
To be honest, I don't really know. I enjoy the research I do now and I'm focused on getting as much out of this experience as I can, learning new skills and building my professional network. I'm excited to see what opportunities come along. The most important thing to me is that I can make an impact with my work and contribute to the community of which I'm a part.
Do you have any advice for current graduate students?
Students at Cornell work very hard and long hours. Don't get lost in all your work. Take breaks, join social activities, and take care of yourself. It is these reset activities that make you resilient against stress and make the time at Cornell so memorable. Make memories by touring Ithaca's nature trails and exploring the restaurant scene.