Alumna Spotlight: Emily Riddle, Ph.D. '18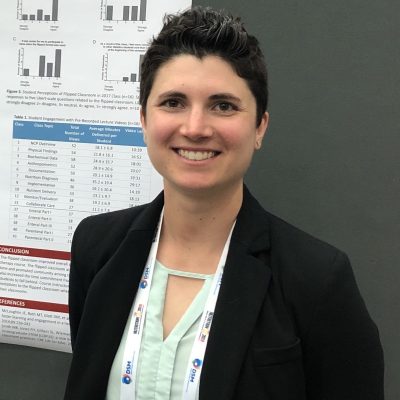 July 5, 2022
Emily Riddle, Ph.D. '18, is an alumna of the nutrition program at Cornell, from which she earned a Ph.D. She is now an assistant professor of foods and nutrition at SUNY Oneonta and a practicing registered dietitian in both home health care and private practice.
What fueled your interest to work in this industry?
I have always had a strong interest in the life sciences. After taking my first nutritional science class as an undergraduate student, I knew nutrition was the field I wanted to pursue in my career. I find the direct interplay between energy and nutrient systems in the environment and within our bodies to be fascinating. Since then, I have developed genuine interests in the clinical, research, and teaching aspects of the field. My work now allows me to combine these various aspects of the field together in my work as both an assistant professor and a practicing registered dietitian.
What is the most rewarding part of your work in this position?
In both classroom and clinical settings, I love watching both students and clients begin to challenge and critically evaluate many of the traditional and often harmful narratives popular in nutrition/dietetics. It is rewarding to see others develop the skills they need to critically think about the science and evidence instead of taking all narratives at face value, especially when the inquisitiveness leads to positive change.
How did your Cornell graduate education prepare you to succeed professionally?
While at Cornell, I developed my skills not just in nutrition research but also in teaching and the scholarship of teaching and learning. These skills have helped me tremendously in my career as an assistant professor at a teaching focused institution. My institution highly values incorporating undergraduate students into research projects and also values research on teaching effectiveness in my field. The wide breadth of experiences I was able to have during my Cornell graduate education have set me up well to succeed professionally.
What skills did you take away from your degree program that help you in your career?
The skills I developed in the scholarship of teaching and learning have been particularly helpful. I was also able to receive training in systematic review methodology while in graduate school and learned how to critically evaluate evidence to inform clinical practice guidelines. These skills have been particularly useful for both my research life and also in my career as a registered dietitian.
What book is currently on your bedside table?
"I'll Push You" – It is a book about two best friends, one pushing the other in an off-road wheelchair 500 miles on the Camino de Santiago across northern Spain.
If you could go back in time to the beginning of your graduate career, what advice would you give yourself?
Almost everyone who enters graduate school has some form of imposter syndrome. Remember that you deserve to be there and you can flourish, especially if you take the time to connect with others who are sharing your experience.