Alumna Spotlight: Nizeet Aguilar, Ph.D. '16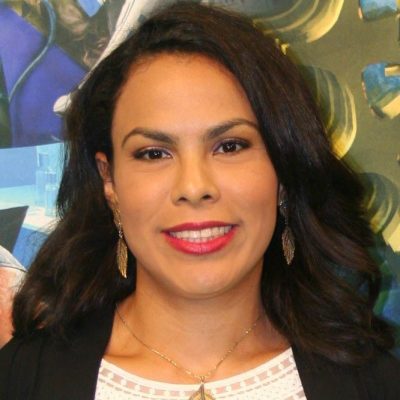 November 4, 2019
Nizeet Aguilar, Ph.D. '16, is an alumna of the biomedical engineering program at Cornell from which she holds a Ph.D. Prior to attending Cornell, she earned her undergraduate degrees from the Community College of Baltimore County and the University of Maryland Baltimore County. Now, she is an AAAS Science & Technology Policy Fellow, Directorate for Computer & Information Science & Engineering, in the Division of Computer and Network Systems with the National Science Foundation.
What fueled your interest to work in this industry?
In 2016, I became involved with Faith in Indiana. This organization brings change by advancing leadership within marginalized groups in Indianapolis. Faith in Indiana's research found a strong correlation between poverty levels and lack of transportation. An initiative was written to increase Indianapolis public transportation by 800 percent. The local government agreed but required a referendum. The question was added to the 2016 ballot. We made thousands of calls. On November 8, 2016, the referendum passed! This experience showed me that scientists can be helped by effectively communicating experimental results to policy makers at the local, state, and federal levels.
What is the most rewarding part of your work in this position?
I work with many talented people who ensure cross-cutting research serves everyone in our society. One of my NSF mentors, Dr. Jonathan Sprinkle, told me, "We need to be good and faithful stewards of the government's investment in research, because the government serves the people. When making an award we need to consider: Who will benefit? What will be the impact?" These words helped me understand that everything we do here at NSF will have a positive impact on our society. As an AAAS fellow, I help to shape NSF by moving forward policies that will be beneficial to everyone.
How did you become interested and involved in policymaking, in addition to your other work?
While at Cornell, I always wondered how the skills that I learned during my Ph.D. could be used in other areas. While in graduate school, Dr. Christopher Schaffer, a professor at the Meinig School of Biomedical Engineering, talked to us about his experiences in science policymaking as an adviser for a U.S. senator, and how we can make other beneficial changes to our society with the skills learn during our Ph.D. That talk helped me realize that I could make a difference in my community by being involved in policymaking.
What book is currently on your bedside table?
The Bible.
How did your Cornell graduate education prepare you to succeed professionally?
During my Ph.D., I grew not only as a scientist, but as a person. Cornell helped me to think critically in my Ph.D. project and other situations. From day one I felt the support of the Cornell family, including my advisor, Dr. Lawrence Bonassar, who instilled confidence in me. He always listened to my analysis and helped me to focus on the big picture of my project. Furthermore, he happily supported my decision to explore science policy. He told me "One of the blessings of a scientific background is that you can apply it to many problems".
What skills did you take away from your degree program that help you in your career?
Being able to dissect a problem by first identifying the big picture followed by focusing on specific areas and lastly, filling in the gaps.
If you could go back in time to the beginning of your graduate career, what advice would you give yourself?
Everything is temporary. Nothing is set. Just breathe.