Alumna Spotlight: Vandana Raghavan, Ph.D. '19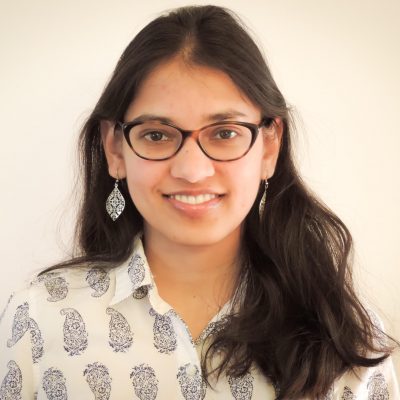 January 13, 2020
Vandana Raghavan, Ph.D. '19, is a recent alumna of the biochemistry, molecular and cell biology program at Cornell, from which she holds a Ph.D. Before enrolling in a doctoral program, she earned her undergraduate degree at the University of Delhi, Acharya Narendra Dev College.
What is your area of research and why is it important?
My research focus is to understand how organisms maintain a balance between genomic stability and generating mutations essential for stress adaptation. Mutations in the genome are repaired by the mismatch repair system. Consequently, defects in this system lead to an increase in the levels of mutations. My aim is to understand if yeast with partial mismatch repair defects exist in nature and, if so, do they help in adaptation to stress? Baker's yeast is an excellent model to answer these questions and it is easy to culture and perform genetic assays. I used tools such as genomics and yeast genetics to look at genetic variations and measure mutation rates in natural yeast isolates.
What are the larger implications of this research?
Drug resistant fungal infections have been on the rise over the last decade. Yeast, a type of fungi, are usually non-pathogenic to humans and cause infections only in immune-compromised patients. The human body is a stress environment for yeast due to various factors such as the high temperature of the body and exposure to anti-fungal drugs in the clinical environment. I used baker's yeast obtained from clinical sources as a model to understand how yeast adapt, survive, and cause infections in the human body. This allows us to understand the factors that support yeast infections, the steps we can take to reduce such infections, and feeds into research to develop novel targets for anti-fungal drug development.
What inspired you to choose this field of study?
My major interest in this project was the opportunity to study natural isolates of yeast in an evolutionary as well as a clinically relevant perspective. Not many people are working on natural yeast isolates and only recently more than 1,000 yeast isolates from world-wide sources were sequenced. I was excited to use my knowledge of yeast genetics to get to know more about stress adaptation in nature.
How did your involvement in Careers Beyond Academia shape your graduate school experience?
Careers Beyond Academia gave me the opportunity to explore my skills and interests outside of bench work. Several career panels organized by Careers Beyond Academia with invited alumni as panelists broadened my knowledge of careers outside academia. I explored my science communication skills by taking part in the ComSciCon-Cornell workshop where I got to network with professionals in the sci-com field and wrote a popular-science article about my research. Also, with other members in my department I organized an activity through Careers Beyond Academia to demonstrate the science of taste to the Ithaca community during the science fair for President Martha Pollack's inauguration ceremony. Careers Beyond Academia gave me the opportunity to attend the NYAS workshop for exploring careers outside of academia in New York City. Most importantly, Susi Varvayanis has been a valuable resource and a source of support for my career development.
How did your participation in Careers Beyond Academia prepare you for life post-graduation?
My involvement with Careers Beyond Academia has allowed me to introspect and understand what I would like to do in a future career role. I find myself in a position where I can carefully think about how I want my next position to add to my career development. It has made me aware of useful career resources, helped me build a network, and be strategic and resourceful about my career choices and side hustles.
What are your hobbies or interests outside of your research or scholarship?
I have a keen interest in communicating scientific research to the general community and this is what I do as an early career leader with Genetics Society of America's outreach committee. I also enjoy spending time outdoors hiking and observing and learning about the local plants and birds. I also have an interest in gardening. If time permits, I do it outdoors, otherwise I try to keep myself happy with my indoor plants.
Why did you choose Cornell to pursue your degree?
The biochemistry, molecular and cell biology program that I applied to has faculty working in diverse research areas. I wanted the chance to explore different research options and collaborate, and I got a chance to do that here.
What is next for you?
I am on the job market, learning more about industry research options and networking with people in industry to learn more about it. I want to transition into the biotechnology industry and work on applied research or do postdoctoral research in an academic lab where I can use my research skills in a new field and learn new skills. I want to work on applied sciences and move into a product development role in the future in a biotech company.