Alumna Spotlight: Yagna Nag Chowdhuri, Ph.D. '20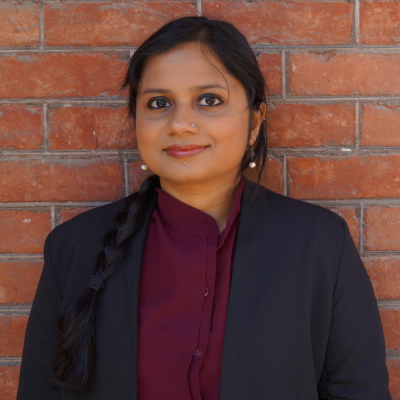 July 13, 2020
Yagna Nag Chowdhuri, Ph.D. '20, is a recent alumna of the Asian literature, religion, and culture program at Cornell from which she holds a Ph.D. Now, she will be starting a new position as Manager of Strategic Research at Asian Cultural Council in New York as a Mellon/ACLS Public Fellow.
What is your area of research and why is it important?
My research is on the history of practices and discourses of self-transformation, originating in India and ultimately forming global spiritual communities. In my research I focused particularly on collaborative encounters between individuals, to create utopian communities of transformation. My research helps us understand some of the popular meditative and contemplative practices of today and how they continue to be shaped by different media.
What inspired you to choose this field of study?
I was interested in learning about how and why people want to become better versions of themselves or create utopian communities. I am a historian at heart, with a great interest in learning about people's individual life journeys. I was drawn to and inspired by stories of collaboration, adventure, and transnational friendships.
What does it mean to you to have been selected as a Mellon/ACLS Public Fellow?
I am delighted to have been selected as a Mellon/ACLS Public Fellow. This is a unique opportunity which recognizes the value of the humanities beyond academic settings. I am excited to make an impact beyond the university space and work closely with a global community of artists and scholars. It is also a great learning opportunity for me and I hope to gain a lot from the expertise and mentorship of various non-profit and art professionals.
What will you be doing in your role as Manager of Strategic Research for the Asian Cultural Council?
As the manager of strategic research at Asian Cultural Council I will be carrying out research projects related to program evaluation and assessment. The strategies that emerge from this work will inform further planning and fundraising. My work will also contribute to creating and promoting a culture of learning and ongoing program analysis in the organization.
What book is currently on your bedside table?
Tomorrow in the Battle Think on Me by Javier Marias
How did your Cornell graduate education prepare you to succeed professionally?
At Cornell I have learnt a great deal from the excellent community of peers both within the classroom and beyond. I have also benefitted greatly from the diverse classes I took in many departments. The interdisciplinary approach was essential to my scholarship and thinking.
What skills did you take away from your degree program that will you in your career?
The ability to immerse myself in a text, and write a narrative which emerges from lived experience including teaching, and learning from peers have been the two most important skills. I will be using these skills to build a career, with a keen a desire to take my training in the humanities for the benefit of diverse global communities.
If you could go back in time to the beginning of your graduate career, what advice would you give yourself?
I would advise myself to be less stressed about classes and work and make the most of my time in gorgeous Ithaca!