Alumnus Spotlight: Jason Guss, Ph.D. '18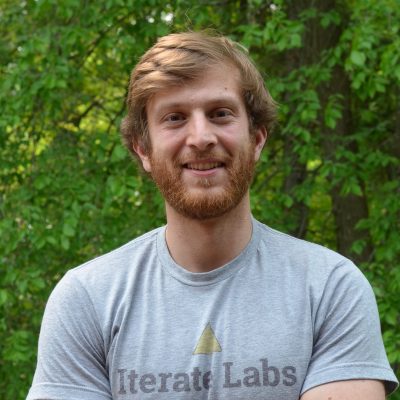 February 2, 2021
Jason Guss, Ph.D. '18, is an alumnus of the biomedical engineering program at Cornell. He is now CEO at Iterate Labs, an AI software platform he worked to found when finishing his doctorate.
Where do you work and what is your current title?
While finishing the Ph.D. program, I worked evenings and weekends to found Iterate Labs, an AI software platform for digitizing human motion into insights for industrial companies. I'm currently CEO at Iterate Labs.
Tell us about your current position and what you find rewarding about it.
I'm currently CEO, managing both our team and our technology vision, as well as fundraising and sales. My early focus on communication skills have enabled me to excel in each of these areas. The most rewarding part of my goal is leading a team through difficult times and continuing to overcome obstacles that seem impossible.
How did your participation in the 3MT competition prepare you to succeed professionally? What skills did you learn?
Winning the 3MT competition allowed me to really focus on the fine-tuning of a single message, and how critical each nuance may be for the overall impact on your audience. I use this same attention to detail, as well as understanding my audiences perspective for fundraising, sales, and managing my team.
How have you used these skills to reach and get people excited about your products and company?
I use these skills on a daily basis as I interact with customers to speak about the specific benefits we have that match their need, as well as in fundraising to present the company's details in such a way to inspire lasting excitement and interest.
If you could go back in time to the beginning of your graduate career, what advice would you give yourself?
Focusing on the big picture impact of what you do (whether it be research or other) may be even more important than the research itself. And being able to communicate your thoughts and ideas (no matter what career your choose) is the most important skill of all.
Is there anything I haven't asked or anything you'd like to add?
Go BIG RED!