Postdoc Spotlight: Ana Maria Porras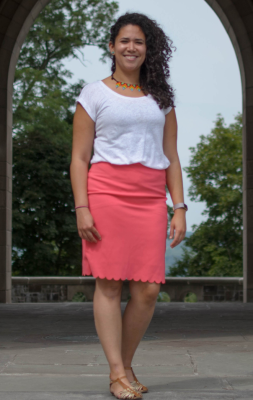 Ana Maria Porras is featured as part of Cornell's Postdoc Appreciation Week 2017.
What is your area of emphasis? Why is this work important?
I work with Dr. Ilana Brito in the Meinig School of Biomedical Engineering; our lab studies multiple aspects of the human microbiome and develops tools to engineer it. My projects are centered around the gut microbiota in a global context. More specifically, I study the differences between the microbes present in the guts of people living in developing versus developed nations with the goal to also understand the impact that these differences have on human health. This work involves a combination of wet lab and computational approaches in collaboration with scientists, doctors, and nutritionists in countries like Fiji and Guatemala.
In my time at Cornell, I aim to identify the common characteristics of the microbiome that drive disease and expand the definition of a "healthy microbiome." Moreover, this work may lead to the development of microbiome-derived therapies designed to target specific populations. Finally, the international nature of this research will contribute to the expansion of science in general, and human microbiome research in particular, to countries in continents other than North America and Europe.
What inspired you to choose your field of study?
I became a biomedical engineer because I wanted to develop tools and applications that solve problems related to human health. Graduate school taught me how to achieve that from a research perspective: I specifically used biomaterials and tissue engineering approaches to study aortic valve disease. In looking for a postdoc, I looked for a project and field of study that would allow me to expand my scientific repertoire. Additionally, I am originally from Colombia and as a result, I became increasingly interested toward the end of my Ph.D. in conducting research with global implications and that is particularly relevant to developing nations. Although it has been a challenge to switch fields, it is exciting to be learning so much and to work in a field as fast-growing and complex as that of the human microbiome.
How has your background influenced your scholarship?
My parents are professors in engineering, so you could say I have decided to stay in the family business. Other than that, I have lived all of my adult life far away from home and outside of my comfort zone, and I believe those experiences made me more receptive to new ideas and not afraid to tackle difficult problems or take risks. I also learned many lessons from both of my alma maters, the University of Texas at Austin and the University of Wisconsin-Madison. "What starts here changes the world" (the Longhorn motto) and "the Wisconsin Idea" (a Badger tradition) both describe the principle at the core of my scholarship: research and education should impact people's lives beyond universities at both local and global levels.
What else has influenced your thinking as a researcher or scholar?
My mentors have deeply influenced both how I conduct and conceptualize research, and the type of scholar I aspire to be. Similarly, I feel constantly challenged and inspired by my friends and colleagues. For example, it wasn't until meeting other Colombian scientists in Wisconsin that I decided to concentrate on projects developed with global applications in mind.
What other hobbies or activities do you enjoy in your spare time?
You will often find me dancing at local venues that play Latin music (salsa, merengue, reggaeton, etc.). I enjoy playing volleyball, hiking, and swimming in the many beautiful lakes around Ithaca. My other hobbies include reading, watching TV, going to the movies, baking, and hanging out with friends. I also spend a lot of time crocheting stuffed animals (sometimes with a nerdy twist). If you want to see them, follow me on Instagram.
Why did you choose Cornell?
The research! And the highly collaborative environment. Although I did not plan to move to a small city, I was impressed by the geography and landscapes of the Finger Lakes region, and found Ithaca very charming.
What's next for you?
I only started at Cornell at the beginning of this summer; for now, I am concentrating on building a strong foundation for the rest of my postdoc. My long-term goal is to obtain a tenure-track faculty position at a research university, build a research program that allows me to continue to develop international collaborations, and contribute to the creation of inclusive spaces in science, engineering, and higher education.
Do you have any advice for current graduate students?
Graduate school will challenge more than just your intellect; remember to take care of your mental, emotional, and physical health. Make an effort early on to meet colleagues inside and outside your field of study and develop friendships that can support you through the highs and lows of this period of your life. Your personal life does not need to be completely taken over by your work.
Interview by Sally Kral, communications and outreach assistant in the Graduate School