Student Spotlight: Nick Fesette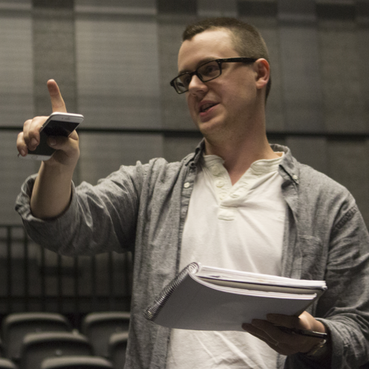 What is your area of research?
I'm a third-year Ph.D. student in the Department of Performing and Media Arts (PMA), working mainly in the field of Theatre Arts. In very broad terms, my work looks at the subject ("actor") and power ("script"); I'm especially interested in the body as it works within and struggles against constraints, survives duress, makes choices, circumvents challenges, and stages resistance.
More specifically, I focus on incarceration studies and prison theatre, particularly in the United States in the 20th century. I'm also working out how there are certain plays and artworks that shed light on the experience of confinement, yet on the surface have nothing to do with prison; there are performances and pieces of dramatic literature that bear witness to abjection and dehumanization that share elements with prison theatre, and I'm curious how this connection between performance and prison reflects our political myths and social values.
What inspired you to choose this field of study?
I want to make and study theatre that feels necessary. And the American penitentiary is one of the places where theatre feels that way.
My father is a New York State Corrections Officer, as was my grandfather. Where I come from, security-type jobs offer pay and benefits that are far better than many other careers. This personal connection to the prison industry leaves me with many questions about incarceration, race, gender, class, power, punishment, redemption, violence, crime, and a host of other topics.
Also, as an undergraduate studying theatre at Hamilton College, I took a transhistorical course on prison writing with Doran Larson. Part of the course was a visit to Professor Larson's writing workshop with men incarcerated in Attica. The experience of taking the course and venturing into the prison had a profound effect on me and on many of my classmates.
Why is this research important?
Right now the U.S. is the biggest incarcerator in history, and it's important to emphasize that this isn't because of some American exceptionalist idea that we have more crime than other countries. We don't. There are in fact many other deeper, more unsettling, and more complicated causes of this carceral explosion, and systemic racism and neoliberalism are at the top of the list. At the same time, we are inundated with images and stories of imprisonment, such as Orange is the New Black and Shawshank Redemption. These narratives give a population that might never see the inside of a jail an imaginary glimpse into that world.
But how does the narrative change when it's told by (and for) people inside? Which images and stories contribute to the rise of mass incarceration? Which stories attempt to change this world? What are some of the ways that artists attempt to alter the real-life narrative of crime, punishment, and abjection? What spaces does this art open up for activism? These are some of the questions that I'm interested in.
How has your background influenced your scholarship?
My background is mostly as an actor and director. After earning my B.A. at Hamilton and before coming to Cornell I made theatre professionally in New York City, mostly with "downtown" theatre companies. Next year I'm set to direct Naomi Wallace's The Trestle at Pope Lick Creek as part of PMA's mainstage series. It's a poetic, coming-of-age love story set during the Great Depression in rural Kentucky. Two teenagers plan to play "chicken" with a train as it crosses the bridge over Pope Lick Creek, which results in tragedy. It's about the real bodily wounds of the social and economic forces we typically think of as abstract, and the ways people try to heal or bandage those wounds—in this case with love and sex. Projects like this help me rehearse and stage the ideas I try to articulate in my scholarly writing.
What else has influenced your thinking as a researcher or scholar?
Music. Right now I'm listening to David Bowie's Blackstar, Kendrick Lamar's To Pimp a Butterfly, and a mix I made comprising bluegrass and bluegrass-inspired artists.
Television. I'm a proud binge-watcher and am working my way through The X-Files, which I was too scared to watch as a kid.
Food/drink. The Finger Lakes region is so fantastic for people who like wine. And there are some great places to eat, too. I've gained 30 pounds since moving to Ithaca. I wish I were joking.
You're involved in volunteering at Auburn Correctional Facility in Auburn, New York, with Cornell theatre professor Bruce Levitt. How did you get involved with this program and why was it appealing to you?
I read about the Phoenix Players Theatre Group before I applied to Cornell. There are brilliant scholars all over the world that work on what I'm interested in, but what Professor Levitt does with the Phoenix Players seemed to me to be unique and in keeping with my other interests and passions. It's one of the reasons I applied to PMA's graduate program.
Can you please speak a bit about PPTG itself? What is your role within the group?
The Phoenix Players Theatre Group (PPTG) was founded in 2009 by Michael Rhynes and Clifford Williamson—two incarcerated men. In their own words, it's "a grassroots program developed by and for incarcerated persons and communities in a maximum security prison. It is a transformative theatre community, which utilizes theatre to reconnect incarcerated people to their full humanity." It's one of very few prison theatre groups that's run by its incarcerated members, not by an outside entity. We meet Friday nights for two hours in a classroom in the school building located inside Auburn's walls, the same building that the Cornell Prison Education Program uses. We don't do plays in the traditional way, rather the members of PPTG write their own short pieces and we work collectively to weave these together into a full-length performance. The civilian volunteers like myself are mainly there to facilitate the transformative journey, working with the administration and helping the men in their craft. The group is currently working on its fourth production, which will be staged inside the prison for an invited audience of around 80.
You can find out more about the Phoenix Players on their website, in an article about the group that was recently featured on the media site Inverse, and in an article Professor Levitt and I wrote that's in the online journal Rejoinder, published by the Institute for Research on Women at Rutgers University.
How has or will your participation in this program influence your research, teaching, and/or dissertation? How has it influenced you on a personal level?
Professor Larson says that the solutions to the problems of mass incarceration can be found in the writing of incarcerated people. I agree, though I would extend this to include not just writing, but also performance, visual art, music, etc. Therefore, working with PPTG is absolutely central to my research, and will comprise at least a chapter of my dissertation, in addition to informing the work as a whole.
It's a common mistake in prison studies to ignore or elide the feelings and insights of the people for whom the work is ostensibly about: the incarcerated. In the scholar-activist's zeal to help, they sometimes end up concealing or misrepresenting the real lives and experiences of incarcerated people. I try to remain sensitive to this danger in my work, and endeavor to place prisoners' real-life experience at the forefront.
Why did you choose Cornell?
In addition to the things I've already mentioned, I was impressed by the PMA faculty. These are some of the most dynamic and brilliant people in the field, who really challenge their students. I also like how intimate the program is. There are very few grad students in theatre, which creates a kind of crucible for excellence.
What's next for you?
A exams!
Any advice for incoming graduate students?
See a performance at the Schwartz. See a film at Cornell Cinema. Taste some wine on Cayuga, Seneca, or Keuka Lakes. Take the bus to the city. Enjoy some ice cream. Find somebody to love or find someplace to be alone. Push yourself to experience new things in the world as much if not more than you push yourself to learn new things. I think it's important to play as hard as you work.
Interview by Sally Kral, communications and outreach assistant in the Graduate School