Postdoc Spotlight: Elizabeth Day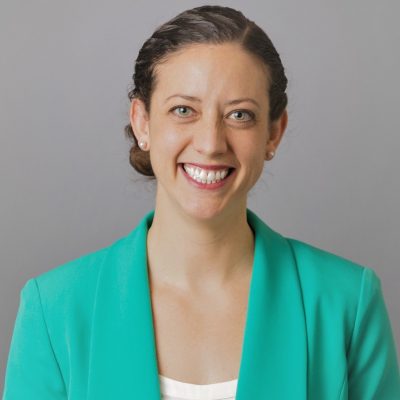 September 18, 2019
Elizabeth Day is featured as part of Cornell's Postdoc Appreciation Week 2019.
Elizabeth Day is from Lafayette, Indiana and earned her B.S. in youth adult and family services as well as her M.S. and Ph.D. in human development and family studies from Purdue University. At Cornell, she conducts research for Cornell Project 2Gen with the Bronfenbrenner Center for Translational Research (BCTR) and Cornell Institute for Public Affairs.
What is your area of emphasis? Why is this work important?
I work at the intersection of research, practice, and policy to understand best practices for supporting vulnerable families, with a focus on the two-generation framework (i.e. taking a whole-family approach rather than focusing on children or caregivers individually). My work includes traditional research as well as working directly with community groups and policymakers on collaborative projects. Oftentimes, policymakers and practitioners strive to use research in their work but are limited by time constraints and lack of resources. In academia, the same is true – researchers often want to get their work into the hands of people who can use it on the ground, but there simply isn't time. Therefore, my work is important because I can serve as a bridge between these different communities to leverage the expertise of each one.
What inspired you to choose this field of study?
I was a fifth-grade teacher in a low-resource school after undergrad, and I saw firsthand the challenges families faced to make ends meet. I knew I needed to learn more about the best ways to support families, which led me to graduate school. While there, I quickly realized no single stakeholder – researchers, practitioners, or policymakers – can possibly do this work on their own and make substantial, lasting change for families, and I knew I wanted to work at the intersection of all three. After graduate school, I worked in the U.S. Senate for a year and then came to the BCTR, which is an incredible wealth of people working at this intersection to make change for families.
What hobbies or activities do you enjoy in your spare time?
I enjoy teaching dance and tutoring, as well as reading and hanging out with my partner and our dogs.
Why did you choose Cornell?
Laura Tach and Rachel Dunifon, my mentors, are incredible and I was excited to have the chance to work with them. I was also drawn to the BCTR because of its unique mission of strengthening connections among research, practice, and policy.
What's next for you?
I hope to continue doing this work, either staying in an academic "home" like the BCTR or moving back into the policy space.
Do you have any advice for current graduate students?
Keep an open mind to all sorts of experiences and jobs. Sometimes it's hard to break the traditional academic mold, but there are a wealth of organizations and institutions who can benefit from your work (and they may not care how many papers you've published!).