Postdoc Spotlight: Elizabeth Riley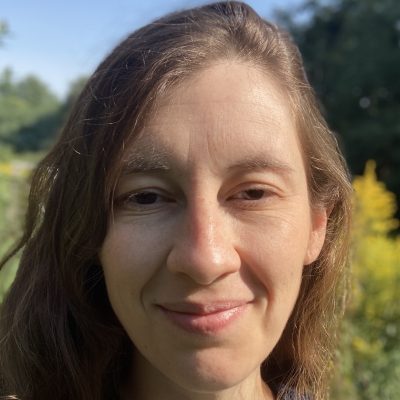 September 19, 2022
Elizabeth Riley is a postdoc in neuroscience in the department of psychology within the College of Human Ecology from Ithaca, New York. She holds a Ph.D. from the Boston University School of Medicine, and her research at Cornell focuses on the norepinephrine system and its relation to Alzheimer's Disease. She is a recipient of a Postdoc Achievement Award for Excellence in Community Engagement as part of Cornell's celebration of National Postdoc Appreciation Week 2022.
What is your area of research, scholarship, or work and why is it important?
I study the norepinephrine system and the place norepinephrine is made in the brain, the locus coeruleus. This evolutionarily ancient neurochemical system is crucial for regulating alertness, attention, and stress, but it also has a special weakness: it's the first place in the brain where neurodegenerative damage appears in Alzheimer's. It takes a very long time for this early damage to spread throughout the brain and cause the symptoms of dementia. My main work is about detecting early damage to this region using MRI, pupil size (which has a special relationship to the locus coeruleus and can tell us some things about what goes on in there), and neurocognitive tests.
What are the broader implications of this research, scholarship, or work?
Right now, there are no good disease-modifying treatments for Alzheimer's Disease. Partly, that's because by the time Alzheimer's Disease produces clear symptoms, extensive damage has already occurred within the brain. My research is part of the effort to understand the earliest development of the disease so it can be identified and ultimately stopped before it progresses. My work also includes a major effort to include underrepresented groups in my research. Insufficient representation can lead to poor quality medicine. I am committed to developing inclusive study practices.
What does receiving a Postdoc Achievement Award mean to you?
One of the major goals of my life is to be of service to my community. That's something I can't judge on my own, and therefore it means a great deal to me to know that people I work with feel I am offering something of value.
What hobbies or activities do you enjoy in your spare time?
I have far too many hobbies. I'm a classically trained violinist, and I haven't given it up, often practicing late in the evening after the kids are asleep. I also love sci-fi literature, cooking and baking, making things with my hands like stained glass, being an incredibly untalented back-of-the-pack triathlete, and of course, sharing these things with my two young children and my husband. I'm also involved in climate advocacy. In moments of down time, I usually have a cat on my lap.
Why did you choose Cornell?
Cornell is unique in its mission to offer top-tier education and outreach in fields including, but also beyond, the liberal arts. The combination of academic excellence with a service and community orientation is very important to me and to the mentors I am working with. Also, I grew up in Ithaca, and my family plans to stay! Although it's not the traditional academic path to pick a home before you have a permanent job offer, I really want to serve the community in the long term.
What is next for you?
I am in the process of creating a joint research/clinical position between Cornell and SUNY Upstate Medical University so that I can continue the research I genuinely love while also devoting a significant chunk of my time to addressing health inequity issues and sharing the scientific mindset and process with as many people as possible.
Do you have any advice for current graduate students?
It's normal to feel as though you're being asked to climb an impossibly tall mountain, one so high that the peak isn't even visible. You can trust that, step by step, you will get there.
If you're procrastinating or stuck, try to figure out exactly why as precisely as possible – it often helps identify the next baby step.
Honor your effort, celebrate your successes and your unique contributions, and also, take walks now and then and look up at the sky and remember how big the world is and how small each of us is.