Postdoc Spotlight: Rosanna Bellini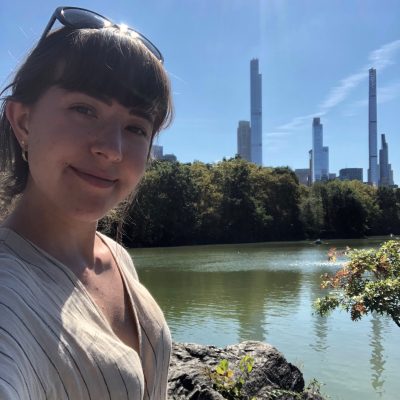 September 19, 2022
Rosanna Bellini is a postdoc in information science on the Cornell Tech campus from West Yorkshire, United Kingdom. She holds a Ph.D. from Newcastle University in the U.K., and her research at Cornell focuses on the role of digital technologies in intimate partner violence. She is a recipient of a Postdoc Achievement Award for Excellence in Mentoring as part of Cornell's celebration of National Postdoc Appreciation Week 2022.
What is your area of research, scholarship, or work and why is it important?
I investigate the role of digital technologies in intimate partner violence (IPV) situations, with a specific focus on IPV abusers' perspectives on technology and how tech is used to financially abuse survivors. Abusers are frequently excluded from the conversation around tech abuse, meaning we miss out on opportunities to prevent these behaviors before they reach survivors. As survivors are already frequently in financially vulnerable situations, we need to ensure that digital technologies support, rather than hinder, their ability to establish financial safety, security, and independence from their abusers.
What are the broader implications of this research, scholarship, or work?
As digital technologies play an increasing role in mediating our interactions, it is essential to design preventative approaches so that technology does not act as a conduit for further harm to marginalized groups. By demonstrating how abusers think about and use technology, we can incorporate these findings into interventions that match their mindsets and provide suitable channels for behavior change away from using tech abusively. In addition, we can identify vulnerabilities in digital interface and product design that make abusive actions harder to perform, equip services with the necessary tools to elevate the responsibility of safety work, and lobby for changes to primary legislation that compel service providers to better protect survivors from harm.
What does receiving a Postdoc Achievement Award mean to you?
It has been truly humbling to have been recognised with a Postdoc Achievement Award, particularly one devoted to mentoring. As someone who has benefited immensely from the guidance and encouragement of the amazing mentors in my professional life, I feel a commitment to passing this knowledge on and supporting others. Research and development always comes with challenges, so I've always felt it is crucial to share skills, knowledge, and expertise to ensure that students may never feel like they have to tackle them alone.
What hobbies or activities do you enjoy in your spare time?
I am an avid walker and mountain hiker and have challenged myself to visit as many of the national parks in the United States as I can. There is nothing more relaxing than getting out of the hustle and bustle of New York City to surround yourself with nature and learn something new about flora, fauna, or both. When I'm not able to get away, I frequently visit cinemas to immerse myself in non-english speaking or arthouse films.
Why did you choose Cornell?
I was excited to have been offered the opportunity to continue my professional development outside of the United Kingdom with Prof. Nicki Dell and Prof. Tom Ristenpart in an area that I was very passionate about. New York City was quite the change from Newcastle back home but I felt immediately at home on the Tech campus on Roosevelt Island; it was just too much of a great opportunity to pass up. Since being here, I have had the chance to work alongside brilliant co-workers who continue to uplift and inspire me, allowing me to continuously want to grow and improve.
What is next for you?
For the time being, I have some more postdoc'ing to do but I'm preparing myself for the academic job market to explore a tenure track position that allows me to work at the intersection of practice and research. I'm always passionate about ensuring any research on violence and abuse through digital technology leads to actionable change in some way.
Do you have any advice for current graduate students?
Draw on those distant and weaker social links in your social network to find opportunities for research and work that may initially push you out of your comfort zone. Spend time in nature, it's harder to be stressed about deadlines and work-related concerns, it's out of sight, and it certainly helps keep things in perspective when things get tough. You are always better than you give yourself credit for, but there's always more to learn and improve so treat whatever you do as a continuous opportunity to learn something new.